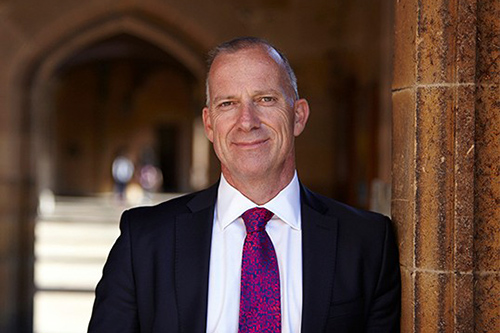 Artificial Intelligence (AI) is having a profound impact on industries worldwide, reshaping the way universities, schools and businesses work – but a new AI-powered initiative is setting its sights on tackling the world's biggest cause of death.
The University of Sydney was recently awarded $1m and expert support to develop a customised digital health program powered by artificial intelligence (AI), aimed at reducing the risk of heart attack.
The funding is part of Australia's inaugural Google.org AI Impact Challenge, an open call to non-profits, social enterprises, and research institutions around the world to submit their ideas to use AI to help address social and environmental challenges.
The prize was presented to Westmead Applied Research Centre (WARC), which was launched last year in collaboration with the Western Sydney Local Health District to focus on translational research addressing chronic illness and their causes.
The University's Westmead Applied Research Centre will use the support from Google to develop translational digital health solutions that enable clinicians to identify 'at risk' people with greater accuracy and help them make crucial changes, for example by quitting smoking, exercising and eating well, or remembering to take their medication.
"Cardiovascular disease is the leading global cause of premature death and disability worldwide, and prevention needs to be strengthened to tackle this because these are deaths that are largely preventable," University of Sydney Vice-Chancellor and Principal Dr Michael Spence told The Educator.
"A particularly exciting element is the potential to harness machine learning to improve patient engagement and customise the delivery of health care, because we know that in about nine in 10 cases, cardiovascular diseases is preventable."
Dr Spence added that the University of Sydney project, assisted not only through Google's prize money but also their AI mentoring, has the potential to transform outcomes by increasing people's access to health care and stop them returning to hospital suffering a heart attack.
"Along with our partners in the Parramatta-Westmead redevelopment precinct, we are building a global centre of excellence in innovation, healthcare, wellbeing and education; this will include the University of Sydney's second major campus, comprising some 25,000 students by 2050," he said.
"Our Westmead Applied Research Centre, which we launched last year, is pioneering a number of digital health interventions focused on some of the biggest issues affecting western Sydney and beyond."
Dr Spence said the Centre has delivered text-messages to more than 3,000 participants through a range of programs, focused on lifestyle diseases such as diabetes and heart disease.
"The next step will be to use this data to leverage a model powered by machine learning," he said.
"Translational programs such as these will be low-cost and scalable, with the potential to increase access to health care globally – tackling the spread of chronic diseases with greater accuracy and saving lives."
Managing Director Google Australia Melanie Silva said technology, including AI, can help solve some of the world's most pressing challenges.
"Through the Google.org Impact Challenge and other initiatives we've continued to support Australian innovators who are using technology to make an impact," Silva said, adding that AI can provide new ways of approaching problems and can help to improve people's lives.
"AI provides another tool to explore and address hard questions and this program builds on our existing AI for Social Good initiative, which focuses Google's AI expertise on solving humanitarian and environmental challenges."
Professor Clara Chow, who is a cardiologist at Westmead Hospital and the University of Sydney's Westmead Clinical School as well as academic director of the WARC, said a focus on a scalable prevention program should make a difference to individuals' lives and help address issues of increasing preventable chronic illness suffered by an aging population.
"Modifiable risk factors account for over 90 percent of the risk of heart attack worldwide," Professor Chow said.
"Chest pain is the second most common reason people present to emergency department in Australia and may be an early warning sign – early identification and monitoring could prevent patients returning to hospital suffering a heart attack but currently this is poorly done."
Professor Chow added that AI-driven digital health interventions "have the potential to be "the game changer".
"This technology would enable patients to be monitored while they go about their daily lives," she said.