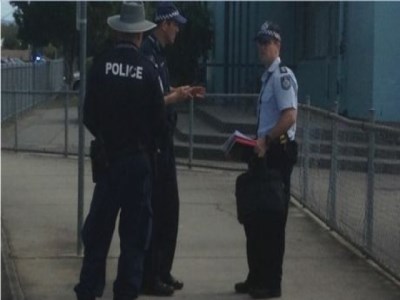 Update
: Police have now revoked the Public Safety Preservation Act (PSPA) put in place near Caboolture State High School on Friday afternoon.
Lee Street and Lower King Street in Caboolture had been locked down following threats made by a 56-year-old man against police.
News Corp had reported the 56-year-old man had written "IED" – the acronym for improvised explosive device – on a piece of pipe in a front window. However, a police spokesman said investigators were unsure whether the man had any explosives.
The man surrendered himself to police late Friday afternoon.
Investigations are continuing.
Friday
: A school has been placed in lockdown as a siege develops involving a man who claims he has explosives ready to detonate. However, police have assured the community that there is no current threat to the school or students.
Lee Street and Lower King Street in Caboolture, north Brisbane, were locked down after a man began making threats to detonate explosives.
The man is in an apartment located directly opposite Caboolture State High School.
A police spokesman said investigators were unsure whether the man actually had any explosives, but had noticed pipes in the window of his property. He is believed to be alone inside and negotiators are trying to speak with him.
Neighbours told
Caboolture News
the man had been threatening them over several days.
In a statement posted on Facebook, the school said its students were not in any danger.
"The school is operating as per normal, students are in class and learning and there is no risk to our school community," read the statement.
"If this continues near to 2.55pm for dismissal, parents who pick up students are encouraged to use Charles St, and students will exit through the back gate, or alternatively the lower part of Lee St is open past MacPherson St."
"School buses will operate as normal and will pick up further down Lee St."
Police said this spot, near the intersection of McPherson Street, was also the best location for parents to pick up their children.
Officers door-knocked residents within the exclusion zone, set up about 1pm, and told them to remain inside.