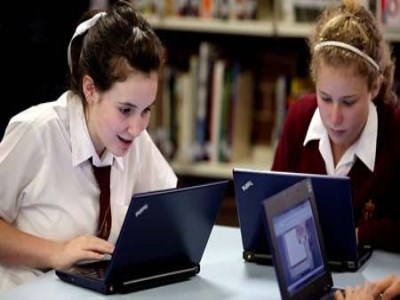 Less than half of Australia's schools are providing students with laptops or iPads, according to the 2014 Softlink Australian School Library Survey Report.
Teachers are requesting that students bring their own laptop or iPad, indicating that schools are backing down on providing the resources to their classrooms.
The trend follows the Government's scrapping of the 1:1 ratio of computers and students under the Digital Education Revolution in 2013, which has forced parents to provide their children with the mobile learning devices they require in class.
The Bring Your Own Device (BYOD) scheme has taken the burden off struggling school budgets – however, critics argue that BYOD disadvantages students from low-socioeconomic backgrounds as many of them cannot afford to purchase the devices.
According to figures from the Australian Bureau of Statistics (ABS), low-income students are also less likely to have internet access at home.
Despite a 10% spike in schools encouraging BYOD, 19% said personal device usage was not encouraged at their schools. The schools also noted a strong link between funding of libraries and NAPLAN results of students.
Softlink, which supplies more than 50% of Australia's libraries with content and library management systems, released its 2014 Australian School Library Survey Report this week.
Nathan Godfrey, Softlink's managing director, said school libraries will have a stronger focus on eBooks this school year, but cautioned that they are likely to face resourcing issues.
"School library staff are poised to take advantage of and manage digital resource practices which can radically improve literacy and learning outcomes in their schools, but they can struggle to find the resources to implement them," Godfrey said.
While concerns linger around the ability of both schools and parents to provide mobile learning devices to children, the BYOD scheme is gaining momentum.
A national survey of 1,267 schools across Australia, conducted by Softlink, revealed that BYOD programs grew by 30% in 2014 alone.