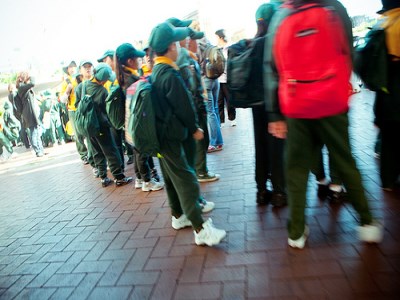 The Australian Education Union (AEU) says a new report citing a spike in demand for more classes and resources has exposed the "lack of a plan" by Christopher Pyne to improve Australian schools.
Today's Australian Council for Educational Research (ACER) report revealed that demand for teachers and extra classes will rise every year until at least 2025 as babies born after 2008 enrol into secondary schools.
AEU federal president, Correna Haythorpe, said that the Federal Education Minister was "failing" on Gonski funding, improving teacher training and delivering for students with disabilities.
"Today's ACER report predicts a boom in demand for schools and specialist teachers over the next decade and means it is more important than ever for the Abbott Government to deliver the final two years of the Gonski funding reforms," Haythorpe said.
"We need to make sure that all schools meet the minimum resource standards recommended by Gonski, and that will only happen with the full six years of needs-based Gonski funding."
The AEU boss repeated calls for the Government to provide capital funding for public schools to help state governments deal with the growing demand.
"It is also time for the Federal Government to implement the Gonski recommendation that they provide capital funding for public schools to help State Governments deal with this growing demand."
The ACER report showed that NSW will require 385 new classes every year until about 2020, while Queensland and Western Australia will need 443 and 351 respectively. Nationally, Victoria is expected to have the highest demand for primary classes, with 448 additional classes each year.
"The report warns that existing shortages of specialist teachers in secondary schools will get worse and that even more children will end up being taught by 'out-of-field' teachers over the next ten years," Haythorpe said.