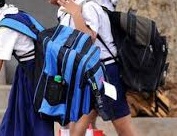 Much has been written about health risks posed by obesity in school-age children but it seems that there is another weighty issue that needs consideration… their schoolbags.
Liberal MP Luke Simpkins is calling on the government to take urgent action to consider the potentially-long-term risks of children carrying heavily-laden backpacks.
Simpkins said in parliament on Monday that he is concerned that spinal problems may be caused in children carrying heavy backpacks.
The MP told The Guardian that the uncle of a Perth teenager had raised the issue with him after discovering that his nephew was carrying more than 7kg around every day.
Medics are not united in their concern about children carrying heavy bags to school though.
Dr Luisa Dillner of BMJ Group Research, who writes for The Guardian says that there is no evidence that carrying a heavy backpack causes long term conditions, although it changes the way a person walks while they are carrying it.
However, paediatrician Dr Zinal Unadkat told thehealthsite.com that: 'Carrying very heavy backpacks can lead to musculoskeletal problems, especially if children carry the bag on one shoulder. It puts extra pressure on one side, tilting the spine." She says that the most a child should be carrying is 10 per cent of their bodyweight; in the example given by Luke Simpkins that would mean a bag of 3.5 kg rather than 7kg.
As well as a risk to physical health Dr Unadkat warns that if students are carrying heavy bags it may affect their concentration and motivation in the classroom.
While medical opinion remains divided Mr Simpkins wants federal education ministers to discuss the issue at their next meeting.