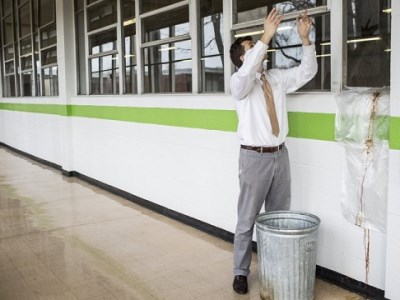 Thousands of under-maintenanced public schools are becoming a safety risk to teachers and students, NSW Opposition Leader, Luke Foley, has warned.
He said a burgeoning $732m repair bill for up to 2,000 "crumbling" public schools had to be "tackled as a government priority" in this year's budget, warning that the situation was now at crisis point.
"I fear if this maintenance backlog isn't tackled as a government priority in this year's budget, we'll be getting to a stage where there will be dangers for teachers and students," Foley told reporters in Sydney on Monday.
He added that the state's schools are in urgent need of new sewers, roofs and guttering, which he said was outlined in Education Department data from June last year.
Foley said the maintenance backlog has surged by $195m under the Baird Government and spending is being outstripped by the growing bill.
"It's a crisis. We have school students in NSW sitting with leaky roofs, leaky gutters, busted toilets, broken windows," he said.
"Schools across the state are literally crumbling under the Baird government. Sydney schools are overcrowded, playgrounds are full of demountable classrooms and now we know many are in a complete state of disrepair."
However, the NSW Government said Labor had left behind an even bigger backlog bill, nearing $1bn.
"Since 2011, the government has committed almost $4bn to school infrastructure and maintenance, with more than $342m allocated in 2015-16 for school maintenance," acting Education Minister, Leslie Williams, said.