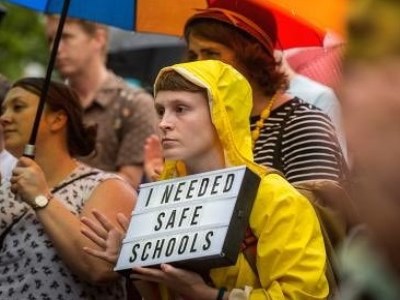 The South Australian Education Department has announced it is overhauling how its public schools teach the controversial Safe Schools program.
The Safe Schools Coalition program, launched in 2014, is aimed at helping staff and students support and accept young Lesbian Gay Bisexual Transgender and Intersex (LGBTI) people.
In recent years, the program has come under fire, with some groups and politicians claiming that its materials and lessons include inappropriate content. In April, the NSW Government dumped the program in favour of a broader anti-bullying strategy.
Under the changes, to be brought in from July, the new initiative will help secondary school principals tackle rates of bullying and suicide among LGBTI students, rather than putting students through specific lesson plans.
South Australia's Education and Child Development Minister, Susan Close, said parental consent is at the heart of the initiative.
"Principals will consult with the school community and seek governing council endorsement prior to its adoption," she said in a statement.
"LGBTI students suffer an unacceptably high rate of bullying and suicide and it is important that we have a dedicated program in place to ensure these young people are supported."
Research shows that 80% of the transphobic and homophobic verbal and physical abuse that these young people suffer occurs at school.
Close said the new initiative allows schools to seek out training for teachers and principals to help them respond to specific issues and
"It also provides guidance on how to create safe and supportive environments for same sex-attracted, intersex and gender diverse students," she said.
The revamped program – which the Federal Government had previously allocated $8m towards – will be delivered by SHine SA, replacing the Federal Government program which expires at the end of June.