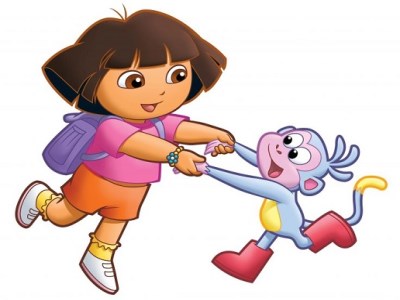 Yes, you read that headline right.
The 15-year-old actress and model, who is the sweet voice behind the well-loved Nickelodeon character 'Dora the Explorer', has been slapped with a three-day suspension for vaping – which involves inhaling vapour produced by an electronic cigarette or similar device.
According to
New York Daily News,
the young actress, Fatima Ptacek, was caught trying caramel-flavored water in a vaporizer pipe with two other students inside a bathroom of Avenues: The World School in December.
Fortunately for Ptacek and a second student involved, the punishment was minimal, with Ptacek receiving a three-day suspension and the other girl getting off with a warning.
However, the third girl – referred to as M.S – was expelled.
The decision has prompted the girl's parents, Nadia Leonelli and Fredrik Sundwall, to file a lawsuit against the school, accusing it of giving favourable treatment to Ptacek because of her celebrity status.
"The fact that [Fatima Ptacek] is a known actress for being the voice of Dora Explorer may have played a role in why she was ultimately not expelled even after the school threatened as much, and MS was expelled instead as a scapegoat," the lawsuit contends.
M.S's parents went on to argue that their daughter had never been in trouble before, but succumbed to peer-pressure because she wanted to look "cool" in front of Ptacek.
Ptacek has voiced the character of Dora since 2012 and carried the cartoon character onto the spin-off show
Dora and Friends: Into the City
since 2014. The program centres around the bilingual character who embarks on adventures, overcoming obstacles along the way, with a talking purple backpack-in-tow.