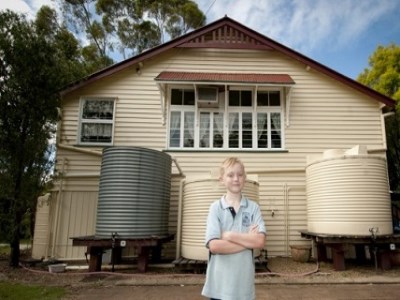 Charmaine Wilson is one principal who doesn't have to worry about any playground brawls or note-passing during class at her school this year.
Ropeley State School was founded in 1890 and is situated in the Lockyer Valley between Toowoomba and Brisbane. The school's rural setting means that enrolments aren't particularly thriving.
The school had 10 students in 2009 before it more than doubled to 22 in 2010. However, enrolments slumped to just 12 in 2011-2012, and seven in 2013.
This year, there is one. Meet
Tom
Christison, 11.
Data for 2014 was not available, but Tom's mother, Mrs Christison, said there were just two students enrolled at the school last year.
Despite initially being shocked to learn that he would be the school's sole student this year, Tom said he enjoys spending both his class time and breaks with Wilson, who somehow fulfils the busy roles of both teacher and principal simultaneously.
"It doesn't bother me," Christison told the
Brisbane Times
this week.
"At lunchtimes, I play board games with my teacher," Christison said, adding proudly, "I've been winning."
The Department of Education, Training and Employment (DETE) said that other schools, such as Yaraka State School, Evesham State School and Stamford State School have had just one student enrolled, but have now closed.
A spokesman for the DETE said, however, that there are no plans to close Ropeley State School.
Even so, Tom's parents continue to lead a petition to encourage parents in the region to send their children to Ropeley.
Tom's father, Clint, said that despite the prospect of becoming lonely at the school, Tom enjoyed the experience.
"I said 'mate, should we take you to Gatton and take you to a bigger school so you've got friends to play with?' and he just said, 'no, I want to stay at Ropeley, Dad – that's my school and that's where I want to be now'."