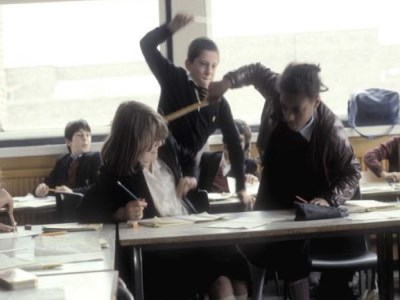 There is a new Australian political party that claims disruptive students are running rampant and need to be taught a lesson in good old-fashioned discipline.
The aptly named School Discipline Party (SDP) wants to ban students from using mobile phones at school, prevent lazy students from moving up grades and even axe the dole for families whose children are disruptive in class.
And a word of warning for students who muck up when the teacher is out of the classroom – don't bet on it. The SDP also wants a "major trial" of CCTV cameras in all classrooms to monitor bad behaviour.
In a statement on its
website
, the SDP said classroom management issues in schools had reached "appalling" proportions for teachers.
"For a number of public schools it is believed that up to 90% of teacher time can be taken up with classroom management issues – that is, school discipline – rather than academic issues. This is an appalling situation which no society should allow to continue," it said.
While the party aims to run Senate candidates at the next election, the odds aren't in their favour. With fewer than 100 members, the party is short of the 500 required to be registered with the Australian Electoral Commission (AEC).
The party's leader, Peter Simmons, is a teacher at an undisclosed high school in Sydney's inner city. He told
The Sydney Morning Herald
that he objects to the use of the word "radical" to describe the SDP's policies.
"We see ourselves as relatively moderate," Simmons said.
"We are not advocating corporal punishment which is what a number of people in the community want to see."
If you're wondering how this party got off the ground, it was formed by a collective of teachers, parents and other community members who felt that the current school system had become "mission impossible" for many principals.
"The challenges they face in quite a large number of our public schools, particularly in socially deprived regions, are extreme," Simmons said.
"So what we want to do is install these extra tools for those principals and teachers to use, as and when they need to."