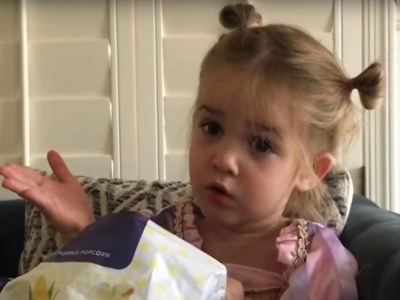 Most of us probably don't remember our first day of preschool. If we did, memories of naptime and playing with toys might come to mind.
But for two-year-old Mila Stauffer, the first day of preschool was a bizarre and messy cacophony that she is unlikely to forget.
Now, a video of the sassy toddler recollecting her experience has gone viral, with over a million views on YouTube in a matter of days.
Mila is featured in a number of hilarious videos, posted by her mother Katie, where she "rants" about different topics. However, it is her latest video that has won the hearts of millions.
"My mom had some news for me – she signed me up for preschool. I told her I want to go to law school," she begins. "She was like, 'No Mila, you're only two'."
But then we're treated to a succinct yet eyebrow-raising description of the preschool.
"The teachers are shady…the kids are insane," Mila exclaims.
And that's just the half of it.
"The kids were all throwing staplers and pooping everywhere – but I'm still alive," she reassures us, hand on heart.
Mila then shares a short story about an incident during which one of her classmates fails to locate – or understand the concept of – a bathroom.
"Dave, we don't pee on our friends," Mila quotes a teacher as saying as she pulls him away from a group of alarmed toddlers.
"So now Dave is triggered," Mila continued, explaining that the traumatised Dave then chased the teacher with scissors.
Describing the total chaos that then ensued in her classroom, Mila explained to the camera that she felt she had no other choice but to take over the situation – with nothing but the utmost grace and charm, of course.
"It was a mess. I had to do something," she said.
"So I yelled nap time – checkmate!' she concluded with a mischievous grin.