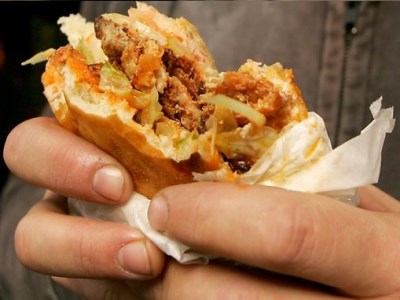 The NSW Government has announced that the state's school canteen menus will be overhauled in an effort to tackle rising childhood obesity.
Under the sweeping changes, fruit, vegetables and freshly made food will now make up at least 75% of school canteen menus, while other offerings will require a Health Star Rating of 3.5 or above.
Announcing the Healthy School Canteens Strategy today, NSW Premier, Gladys Berejiklian, said the strategy replaces the "traffic light" system in schools, which has been criticised as being complicated, and a poor measure of nutrition.
"Providing parents and children with healthier options in school canteens is just one of the ways we can move towards achieving my Premier's Priority to reduce childhood obesity by 5% by 2025," Berejiklian said.
NSW Education Minister, Rob Stokes, said some brands of packaged pies and sausage rolls sold in schools already met the new standard.
"This is not about restricting choice – it's about ensuring the choices of food available are healthy ones," Stokes said, adding that the strategy would be phased in over three years to give schools and the food industry time to adjust.
Figures released by the Australian Bureau of Statistics (ABS) last year show that just 5.4% of children meet the recommendations set out by the Australian Dietary Guidelines.
Recognising the need for greater food literacy in schools, some organisations have designed programs specifically aimed at increasing kids' intake of fruit and vegetables.
One of these is Healthy Kids Association – supported by NSW Health – which runs Fruit & Veg Month every year. This year, the program will run from 28 August until 22 September.

Katie Booth, manager of Healthy Kids' school programs, told The Educator that enrolling in curriculum based programs such as Fruit & Veg Month is a great way for principals to start developing a stronger focus on food literacy in their school community.

"Fruit & Veg Month provides easy to use curriculum materials that meet Personal Development, Health and Physical Education (PDHPE) outcomes, as well as other curriculum outcomes, such as English, Science and Visual Arts," she said.

"We know teachers are already busy, so if we want teachers to incorporate food literacy into an already overcrowded curriculum, it needs to be done as efficiently as possible."
Booth added school canteens played a big role in students' continued low vegetable intake.

"It is hard for vegetables to compete against soft drinks and confectionary. Certainly, avoiding selling 'red' food items in canteens and reducing the number of 'amber' items is likely to have an impact on kids choosing healthier choices," she said.

"Canteens also need assistance to market healthier items, such as those containing vegetables, so that is a more level playing field."
Related stories:
How financially viable is your school canteen?