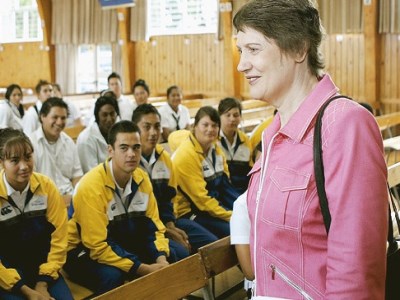 A school labelled the worst in its city is now among the top performers, showing how the hard work of teaching and support staff can make a world of difference.
James Cook High School in Auckland was slapped with the unfortunate designation last year, but has turned its fortunes around through what principal, Vaughan Couillault, calls "hard yakka".
Newly released results from New Zealand's National Certificates of Educational Achievement (NCEA) showed James Cook rating among the top performing schools nationally.
"It is a long road and we are not done yet," Couillault told the
NZ Herald
. "But it is inspiring every day because of the work that our students and all our staff are doing."
Couillault says the results are thanks to the persistent work of his teaching and support staff, who deal with disadvantaged students.
"At year nine, our kids are up to four years below where they should be," Couillault said.
"It takes a lot of hard yakka to help them from there."
James Cook, having a large number of disadvantaged students, regularly faced issues such as truancy, drop-outs and declining grades.
Australian schools with a large number of students from low socio-economic backgrounds face similar issues. The latest
Closing the Gap report
showed there had been no progress in literacy and numeracy targets for Indigenous children.
The report cited a strong link between school attendance and student performance, adding that academic achievement on the NAPLAN tests declined with any absence from school, and continued to decline as Indigenous absence rates increased
However, Gawura Indigenous Public School - which is a part of St Andrew's Cathedral School - reversed this trend through identifying the issues and taking action.
To increase the school's attendance rate, the school organised a bus to pick the students up every morning from each of their homes and take them to school.
As a result, Gawura boasts a student attendance rate of 95%.
Gawura principal, Dr John Collier, said that his school's "demanding" approach to learning is helping Indigenous students enter Year 7 on the same academic level as their non-Indigenous peers.
"The program is a very intensive literacy and numeracy program that is designed to close the gap so that they can enter Year 7 on the same academic level as their non-Indigenous peers," Collier told
The Educator
.
Couillault said one strategy which helped to improve his school's fortunes was making use of Te Kotahitangi, a program that supports Maori learning in a culturally sensitive way.
"We've made huge changes in our teaching approach, particularly around relationships with kids," Couillault said.
"It's about understanding them as people. The kids need to know that you care before they care about what you know."