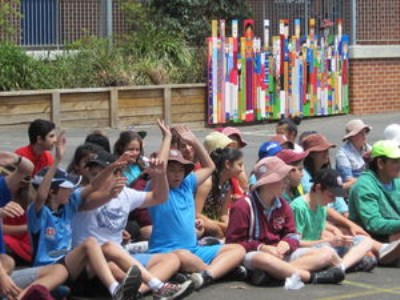 Primary schools in Sydney's north are so full that the State Government is mulling the redevelopment of residential blocks to house new classrooms.
Current enrolment levels in primary schools such as Artarmon, Chatswood and Northbridge exceed capacity, leading to the Baird Government to consider drastic moves to cope with the surging enrolments.
At Willoughby Public, over 2,000 students occupy a site shared with Willoughby Girls High, despite being designed to accommodate just 450.
In 2014, an action group developed a plan for the Department of Education and Communities (DEC) to buy properties and vacant land on Penshurst Street, which runs adjacent to Willoughby Girls High.
Additional classrooms were to be funded by a commercial development, but late last year, the action group was shut down without warning.
In desperation, Willoughby parents have now formed an action group of their own to put pressure on the state government to resolve the overcrowding issue at Willoughby Public.
Penny Hackett, a spokeswoman for the action group, said the DEC had grossly underestimated growth in the school's catchment, and despite several years of intense lobbying, overcrowding at the school had become worse.
"When we were told about the Penshurst Street proposal, we were beside ourselves because it did it seem like the perfect solution to bullet-proof both the schools for the next 30 years," Hacket told the
Sydney Morning Herald
.
"It was a fantastic new way to make the most of commercial opportunities."
A DEC spokesman said that an advisory group set up by the Department would consider "a range of options" to resolve the overcrowding issue.
"The project advisory group will consider means to meet short-term demands. A range of options will be considered to meet the medium to longer term needs," the spokesman said, adding there was a $70m plan to address enrolment pressures at North Sydney schools.