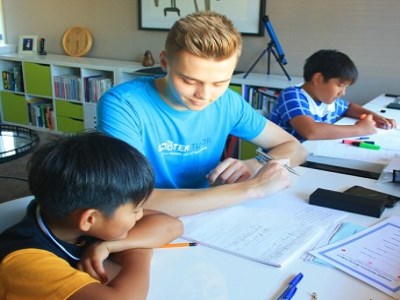 For the first time, a remote school in Far North Queensland will harness the power of one-on-one video tutoring to help its students close the achievement gap with metropolitan schools.
Daintree State School, located in Far North Queensland, is set to switch on the new video platform this week, allowing its students to access high-quality educational resources from around Australia.
The service is being facilitated through Scooter Tutor, a leading tutoring provider that is allowing students to participate in personalised tutoring lessons based on their needs.
By building an in-house video platform on the Scooter Tutor website, users don't need to sign up or create an account with other online video services. Once the lesson is booked online, a link is provided to both the student and tutor to access the lesson.
Scooter Tutor co-CEO, Sam Robertson, told The Educator that as most students move to a capital city to attend university, there is a big gap for students in remote towns who are seeking extra learning support outside school.
"A video platform is a great way for school students in remote areas to connect with some of our qualified tutors in Brisbane, Sydney and Melbourne," he said.
"On the other side of the equation, a video platform is a great way for our tutors to teach more students, and remove the geographical and travel limits associated with in-home lessons."
Robertson said he doesn't see tutoring as a replacement for traditional school learning, but rather a supplementary service to provide one-on-one support for some of the things students might not be getting in a one-to-many classroom environment.
"By allowing students to connect with our tutors via video, they can get great learning support from a qualified tutor in the comfort and safety of their own home, regardless of the physical distance between student and tutor," he said.
Robertson said the platform has significant benefits to principals are trying to improve their students' access to quality education resources.
"Lots of our tutors are in fact qualified teachers, so having a network of almost 300 experienced tutors across Australia is a great resource that teachers and schools can easily take advantage of when students require some additional support outside of the classroom," he said.
Robertson said parents often request a tutor who can act as more of a mentor for their son or daughter, rather than a "teacher" for specific subject matter.
"This is why we have employed a highly diverse group of tutors, from veteran school teachers to high-achieving university students with a passion for sharing their knowledge," he explained.
"We'd love to do more work with schools to bring this kind of supplementary learning support to students either at school, in-home or via video."
To celebrate the launch of the video platform, Scooter Tutor in collaboration with Royal Flying Doctor Service is offering 20 students from across Australia free tutoring lessons for the remainder of the year.
For all subsequent online video-tutoring lessons purchased throughout 2017, Scooter Tutor will donate 5% of all proceeds to RFDS.