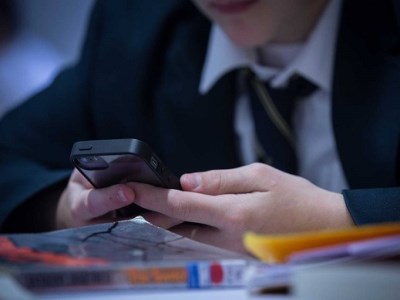 One school is taking privacy to a new level by banning students from sharing photos and videos of classmates and staff online.
Parents of St Kevin's College's Junior School Campus' students were asked to consent to the new rules in February in a push to promote a "safe and secure environment" for its students.
Students at the school, which is a Catholic college, must now ask for their peers' permission before taking a photo or filming them.
Under the new guidelines, Year 5 and Year 6 students are prohibited from using iPad devices before and after school in areas such as the playground.
"No photographs, videos or sound bites of St Kevin's College students, staff, buildings, facilities, sport teams or any other identifiable images may be posted online," the school's technology co-ordinator wrote.
Cyber safety expert Susan McLean told
The Herald Sun
that changes such as these are becoming increasingly necessary.
"You can't rely on kids' common sense. You do need to have very clear rules," she said.
"Schools are very slowly, unfortunately, coming to the realisation that these sorts of things need to be in policy."
In line with its current guidelines, the Victorian Education Department permits state schools to develop their own policies on the issue.
A spokesperson for the Department told
The Educator
that principals are best placed to decide how they enforce such policies in their schools.
"Government schools develop their own policies regarding photographing and filming students. This policy should be regularly communicated to the parents, carers and students," the spokesperson said.
"Schools are best placed to decide on how they enforce this – that may include requiring written consent before a photograph is taken or not allowing videos and photos taken on school grounds to be posted online."
In Victorian state schools, photography and filming policies should detail the notification, consent and publication procedures and protocols principals follow if students are filmed or photographed by third parties on school property.
This means principals can take appropriate action against students who photograph or film peers or staff without their consent, or who send harassing or threatening messages.