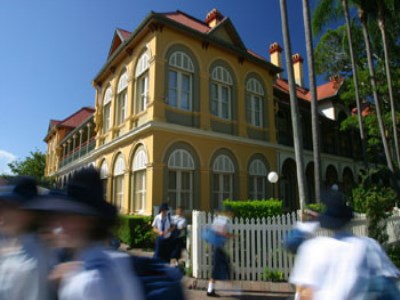 An elite Queensland school is under fire for allegedly discriminating against a bullied student with a mental illness by requesting that her mother remove her from the school.
The Brisbane Girls Grammar School (BGGS) student had attention deficit disorder when she began at the school but claims she was then bulled and developed mental health problems which caused her to disengage from her learning.
She claimed that some of the students in her house class group called her insulting names and told her that she would kill herself, the discrimination claim before a tribunal alleged.
The girl, now 17, missed 21 days of school in 2011, 38 days in 2012, 72 days in 2013 and 89 days in the first semester of 2014.
The school was made aware of the bullying and the girl had many counselling sessions with their psychologist, said the Queensland Civil and Administrative Tribunal (QCAT) discrimination claim.
"My daughter spent nine weeks in hospital last year with anorexia and depression. It's just been a nightmare," the girl's mother, who also attended BGGS, said.
"I had no idea how bad the bullying was back then."
After the girl began self-harming in Year 10, during her third year at the school, she was briefly admitted to a children's hospital. In 2014 she was diagnosed with chronic depression, chronic anxiety and the beginnings of anorexia, it was claimed.
BGGS deputy principal, Anna Owen, discussed the girl's lack of academic progress and told her mother that her daughter would have to be removed from the school.
The girl's claim against the school, Owen and BGGS principal, Jacinda Euler, regarded ­compensation for emotional distress and the lost opportunity to complete her schooling at BGGS.
However, in a statement, Owen and Euler strongly denied all allegations of direct discrimination based on the girl's mental health impairment.
The school claims Owen offered options for the girl to go back to Year 10 or complete Years 11 and 12 over three years, and the school later offered to discuss her possible return.