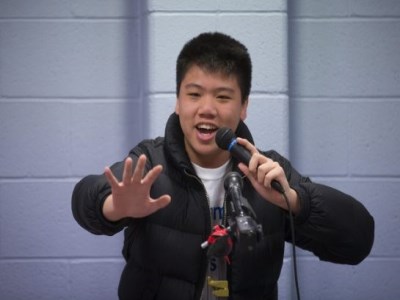 In Canada's first grade school stand-up comic curriculum, the goal is to learn to laugh at yourself and not others. This, according to former principal and program leader Sue Stephenson, helps students cope with stress in their lives.
The program also lets students learn the ropes of public speaking, creative writing and – as Stephenson puts it – "turning problems into punch lines".
"We actually looked at health and unhealthy humour. I think a lot of bullies are really stand-up comics who don't have an audience," Stephenson told Toronto CTV News, adding that the program was "a way of channelling humour" for a positive purpose.
All of the performers are Year 7 students, who write and perform their own material, inspired by their experiences.
Sixteen young comics at North Kipling Junior Middle School in Toronto have spent three months learning about comedy as part of an anti-bullying program designed to reduce stress. One of these is Richard Thai.
"I'm Asian, right? So people ask me, 'Where are you from?' and I say 'Canada' and they say, 'No, but where are you from from?' and I say, 'That's like what kind of car car do you drive drive?" Thai said.
The young crowd broke into fits of laughter and cheered.
"They'll say, 'Are you Chinese?' No," he went on. "'Korean?' No. 'Filipino?' No. Guys, I'm Vietnamese! Small country, lots of people. If you tried to find my relatives, it would be like Where's Waldo? Asian version."
Performing with live microphones on the lunchroom stage before a friendly audience of cross-legged critics, each comic did a three-minute bit he or she had crafted with the help of class "joke buddies" and two graduates of Humber College's School of Comedy.
"We talk about making people feel good with laughter, and even though you can get a laugh by making someone feel bad, that's not comedy," said Humber comedy grad, Kyle Woolven.
Humour also lets students tell personal stories, rather than always focusing on others, said teacher Douglas Cornell.
"So Kanye West and Kim Kardashian had another baby, and everyone's talking about that, but this program helps kids to realise they can be stars themselves."
In Australia, an in-class comedy workshop established by a Tasmanian school teacher is aiming towards the same goals.
Launceston Christian School English teacher, John Hill, teaches students about the theory and practice of humour and satire at the local café, Shots on Wax.
"Analysing stand-up comics is a unit that was devised as part of the Humour and Satire course I created some years ago as a Year 10 extension English option," Hill told The Educator.

"The course has generated much interest."