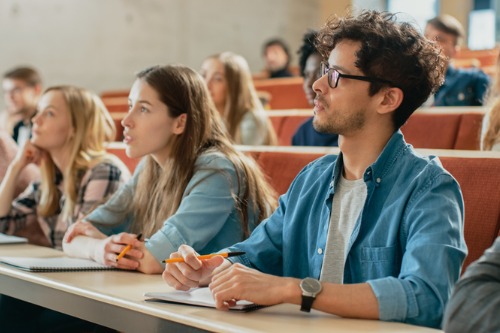 Recent figures show student enrolments on a steady incline, prompting state governments to build more facilities. However, there aren't enough teachers staying in the job.
Particularly in the case of disadvantaged schools, administrators are finding it harder to recruit teachers who would prefer to work at more affluent schools and with students who have less behavioural problems.
This is despite the Federal Government's – and even state government and territories' – efforts to incentivise teachers to stay in their profession.
Federal Minister Dan Tehan said the government will invest another $21m to train additional high-achieving university graduates to teach in disadvantaged schools.
Early career teachers are also leaving the profession earlier due to work-related stress or because they feel unprepared for the job. This has led to a higher student-teacher ratio – with Catholic schools surprisingly yielding the widest margin at an average of 14 students per teacher.
Incentive offered
In a bid to improve student-teacher ratios, G8 Education has partnered with La Trobe University to launch its flagship Bachelor Scholarship program.
The scholarship, which can also be offered in QLD and NSW, is open to diploma-qualified educators who are part of G8 Education's 500 early learning centres.
G8 Education chief executive officer, Gary Caroll, pointed to evidence that investing in early education later on leads to better academic and social outcomes. However, this can be stymied by the shortage of qualified teachers.
"One of the great challenges in the early learning sector is attracting and retaining good people and our scholarship program places a high value on those who have chosen early childhood learning as their vocation," Caroll said.
"We aim to double our number of qualified early childhood teachers, positioning ourselves as the leader in the early education sector."
The program will provide an additional $15,000 study bonus over the paid practicum placement and study time. Educators participating in the program will also have access to mentoring and workshops.
Another $5,000 study bonus will be granted to full scholarship students once they pass 505 of the course units. Another $5,000 will be granted upon the completion of all units.
These scholarship students may also reap another $5,000 if they remain part of G8's early learning centres after a year of graduating from La Trobe University.
Prior to its partnership with G8 Education, La Trobe already received government funding as well.
Earlier this year, Minister Tehan announced that La Trobe University was set to receive $6.3m to take in and train future educators, especially those who are committed to regional communities, in 2020 and 2021.
But to incentivise students to take up teaching – Peter Goss, the director of Grattan Institute's School Education Program, and Julie Sonnemann, a Grattan Institute Fellow – have proposed that the government should come up with a $1.6b reform package for state schools.
Broken down, the package should offer cash-in-hand scholarships, higher pay rates and help run a marketing campaign to make teaching look attractive to these high-achieving students.