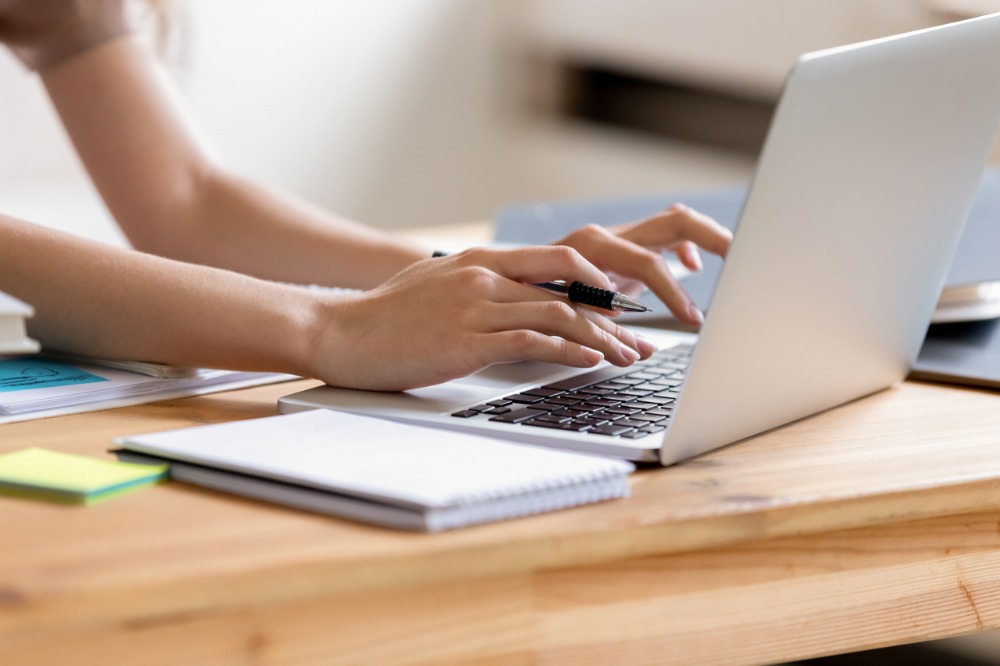 New data has revealed how prospective international students and higher education institutions are responding to the global health emergency brought on by COVID-19.
The survey of prospective international students, conducted by QS, which provides services, analytics, and insight to the global higher education sector globally, attracted approximately 11,000 respondents since it was established in mid-February.
Respondents were asked a range of questions, including whether COVID-19 had impacted their plans to study abroad and how they feel about changes in educational delivery. It also asked universities how they were responding to the pandemic.
When asked whether the virus had impacted their plans to study abroad, 46% said it had, 29% said it did not and 25% said they did not know.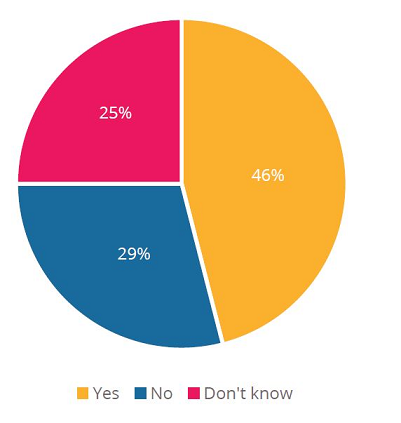 Interestingly, the week of March 13-19 saw the biggest dip in those respondents who said their study plans hadn't been impacted and the biggest rise in those who said they had.
This was also the point at which greater numbers of students faced growing uncertainty about their travel plans, with a significant increase in those who claimed they 'don't know' whether the crisis has affected them personally.
Prospective international students were also asked how the coronavirus had changed their plans to study abroad, whether they had deferred entry to next year, decided to study in a different country, no longer planned to study overseas, other reasons, or none of these.
A significant 47% of students said they now intend to defer their study until next year, while 13% said they intend to study in a different country. Eight percent said they no longer want to study overseas.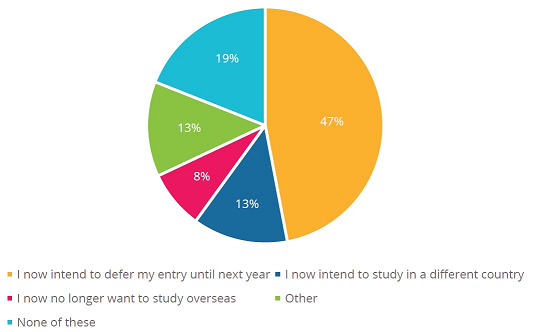 How students feel about changes in educational delivery and the rise of online learning
As of the 26 March, 58% of prospective international students expressed some interest in studying their degree online due to coronavirus restrictions, while only 42% stated that they had no interest in studying online.
Additionally, 51% of prospective international students surveyed said that they expected universities to move more of their lectures online.
The survey asked university representatives to share the biggest challenges facing their institution right now. Some of the responses included:
"Keeping our current students, faculty, and staff safe and healthy while also trying to keep normal operations running. We are also very concerned about enrollment for summer and fall."
"The biggest challenge is not being able to know what information is true and what is not. In addition, living in a country like Honduras, where the health system is not trustworthy, it's difficult to say that our institution is ready for a crisis."
"Our biggest challenge was how to move from traditional education to e-learning and how to overcome the problem of practical courses and training."
"The biggest challenges are continuity planning, communications, and uncertainty."
What tactics have universities adopted in the wake of the coronavirus outbreak?
To get an idea of what tactics they'd started to introduce, the survey asked survey respondents if they'd implemented the following measures: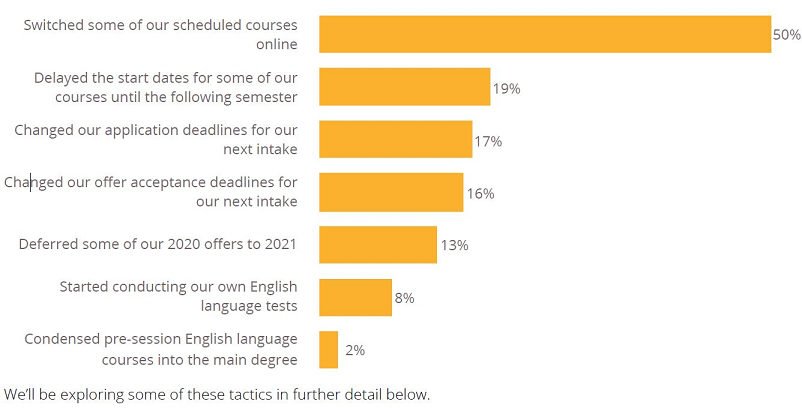 Meanwhile, one university is employing a data-rich information platform to tracks the impact of the coronavirus pandemic on its operations.
Flinders University's platform, which has been adopted for the last year and a half, uses more than 20 services from Microsoft, and allows the University to monitor and gain immediate access to critical information when and where it is needed.
Developed originally to support a more responsive and flexible way to the address the needs of its students and staff, the platform has become an important information dissemination tool as Flinders deals with issues brought about by the COVID-19 pandemic.
"We have been able to respond to information requests around students, from international numbers to the impact of the move to online lectures, and inform the scenarios planning for the University," said Luke Havelberg, associate director of planning and analytical services.
"We can turn that around much faster than before, often in hours."