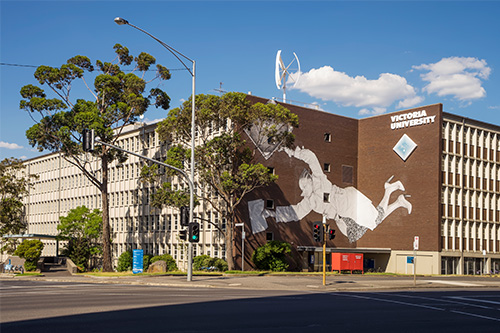 Victoria University (VU) has announced that Professor Adam Shoemaker, a leading researcher in Indigenous literature and culture, will become its next Vice-Chancellor and President.
Professor Shoemaker – who comes to VU from Southern Cross University (SCU), where he has been the Vice-Chancellor and President since 2016 – was selected following "an extensive recruitment process, undertaken in unprecedented times".
Chair of the Search Committee, Deputy Chancellor Wayne Kayler-Thomson said the committee's decision was unanimous decision and followed Professor Shoemaker's presentation of "a compelling vision for VU's next stage of development".
VU Chancellor Gaye Hamilton says that Professor Shoemaker will bring "an exciting mix of passion, knowledge and innovation" to VU.
"Professor Shoemaker is described as generous, inclusive and collaborative and he has a reputation as having the confidence of his staff and his peers as well as the communities his university serves," Hamilton said.
"He is an ideal fit to build on the firm foundations of VU and to continue our transformational agenda as well as continuing to enact our moral purpose, which is to transform the lives of any student from any background and to transform our communities".
Professor Shoemaker has significant experience in leading change agendas, including the development of a new strategic plan at Southern Cross University focused on firmly establishing it among the top 50 young universities in the world by 2026.
He also delivered a financial turnaround and completed a practical and symbolic rebrand of SCU that acknowledges Indigenous culture, positioning it as a progressive and deeply-engaged institution within the regions it serves.
"VU has become globally recognised for its commitment to reinvention and achievement – both in education and research. It takes its responsibility to both people and place in Melbourne's west very seriously, and that is a wonderful thing," Professor Shoemaker said.
"Over decades, VU has become a beacon of dual sector excellence and diversity. It recognises the responsibility and challenge of successful career-creation for all students, regardless of background".
Shoemaker said it draws inspiration from the Indigenous concept of Moondani Balluk—meaning 'embrace people' in the Woiwurrung language of the Wurundjeri nation.
"All of this sets VU apart in the strongest possible way. I feel privileged to be joining such a great institution," he said.
"I am also no stranger to a challenge—and now is the most challenging of times. But I am convinced that universities, such as VU, will lead the way in terms of attainment and excellence in the future".
Professor Shoemaker will commence at VU on Monday 14 December, coinciding with the final week that Professor Peter Dawkins will be in the role of Vice-Chancellor.