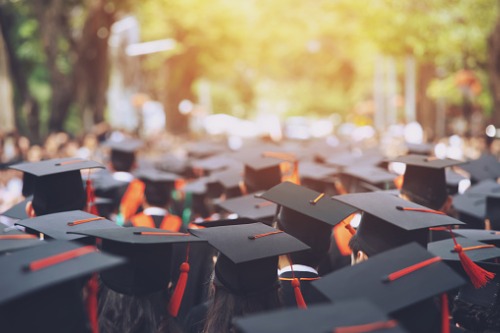 According to a report by Deloitte, 49% of Australian business leaders intend to invest in new technologies to disrupt their market, compared with 33% globally.
The education industry is no exception to this phenomenon. Educators, institutions, and developers are working towards creating new edtech solutions designed to improve teaching and learning outcomes across all year levels and sectors.
On Wednesday, a snapshot of the Education Report 2020 provided some key insights into the challenges facing Australia's education leaders as they adjust to a rapidly changing world.
The report, which surveyed senior education leaders in all states and territories, identified a number of pressing issues that are impacting on the ability of educators to improve professional development, student and staff wellbeing and the provision of technology across their campuses.
Just like their K-12 counterparts, university leaders are striving to ensure that young people are equipped with the necessary skills to thrive in the future workplace.
Indeed, the current workplace is already undergoing significant shifts in certain areas, such as automation and Artificial Intelligence, which require employees to utilize a very specific set of skills.
However, with new and emerging technologies promising to eclipse many of today's jobs, some experts are calling on education leaders to become more adaptive and reconsider the way they are preparing students for the future.
'PD needs are transforming'
According to Shane Blandford, chief marketing and innovation officer, Konica Minolta, the future of work is transforming professional development needs from specialised skills training and education degrees to lifelong learning.
"Hard skills will no longer have a singular relevance in the longer term, meaning the workforce will need to adapt and grow on the job," Blandford said.
"This has caused the focus to shift towards the continual upskilling of soft skills to equip the next generation to adapt to inevitable workplace changes".
To make sure the next generation is future-fit, Blandford said education institutions and public sector organisations must expand their training approaches and program offerings beyond specialised occupational training.
"They should include a focus on life skills as well as upskilling the next generation to be able to be proficient in dealing with AI, cybersecurity, robotics and 3D printing through digitally-focused courses and degrees," he said.
'Value of engineering skills should be highlighted'
Chelsea Hayward, NSW region vice-president of Engineers Without Borders, says engineering can combine all the other STEM areas in an engaging way.
"Engineering applies principles of maths and science in a practical way, to solve real world challenges and improve social, economic and environmental outcomes," Hayward told The Educator.
"With increasing globalisation and advances in digital technologies across multiple industries, engineering will play a leading role in the jobs of the future."
Hayward said this is not only in the form of physical engineering, but also in other engineering skills such as structured critical and innovative thinking.
However, recent reports highlight the ongoing challenges that educators, communities and governments face when it comes to enticing students into STEM fields.
Training STEM teachers is a must
A recent report sounded the alarm on Australia's STEM skills gap, revealing that 75% of employers had difficulty in recruiting suitably qualified or skilled people.
While schools recognise that a large part of the issue lies in engaging students in STEM education, the necessary training and tools for teachers to do this is often lacking.
Some universities, however, are tackling this problem through targeted programs for pre-service secondary science teachers.
Flinders University's 'Bridging the Gap: Connecting science education with the real world' program develops pre-service STEM teachers by giving them the opportunity to experience real-life science applications through industry placements. This in turn helps them become more classroom ready.
In 2019, more than 50 student teachers embarked upon three short industry placements before they started their final teaching practicum. The university expects more student teachers to undergo industry placements this year.
Master of Teaching (secondary) student Johanna Kemplay-Hill, who had gone on-site with SIMEC Mining as part of the program before her graduation, said the industry exposure helped give her a deeper understanding of the types of industries she will prepare her students for.
"In schools, the STEM …acronym describes various student subjects but experiencing industry through SIMEC Mining allowed for me to form my own definition: 'The collaboration of Science, Technology, Engineering and Maths to solve applied problems'," Kemplay-Hill said.
Christina Pappas, another recent graduate who also went on-site with SIMEC Mining, also pointed out how the experience gave insights on how theory is put into practice in a certain industry.
"It not only opened my eyes to how science applies across the spectrum, but will help to inform my future pupils about career options and to even pursue a career in mining or other STEM area," Pappas said.