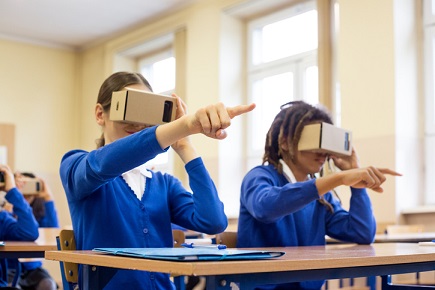 From Virtual Reality workshops and coding tutorials to robotics competitions and drone piloting courses, 2018 is shaping up to be an exciting year for education.
The rapid automation of various industries across Australia means that today's students require stronger Science, Technology, Engineering and Mathematics (STEM) skills.
Meanwhile, the Federal Government has been encouraging schools to focus strongly on improving student engagement in these areas so that children will be prepared for the workforce they'll enter once they leave school.
One school making strides in this respect is Sydney's Our Lady of Perpetual Succour Catholic Primary School (OLPS), whose students have been boosting their digital literacy outcomes through a new coding tutorial.
The tutorial is part of the global Hour of Code initiative, which was launched in 2013 by Code.org, a non-profit dedicated to expanding access to computer science and increasing participation by women and underrepresented minorities.
Sue Host, OLPS principal, said coding has become a very popular subject at the school over the past three years, and Accenture had "helped greatly" in this area.
"The father of two students enrolled here, Luke Higgins, an Accenture employee, offered his services three years ago as he had identified some interest amongst the kids in learning about coding," Host told
The Educator
.
"We're now in our third year of involvement with Accenture and the Hour of Code, and this year's coding classes were highly successful – we had almost a 1:1 ratio of teaching support thanks to Luke and his team, and a 100% engagement rate."
Drones 'revolutionising' broad range of industries
Another innovation that is showing increased importance to various industries is drone piloting.
Three students from Queensland's St Margaret's Anglican Girls School recently became the first to gain their Remote Pilot's Licence (RePL) from the Civil Aviation Safety Authority through the school's innovative new Drone Academy which provides students the opportunity to engage and explore the engineering and science behind drone technology.
The school's Manager of STEM Enrichment Programs, Chris Farrelly, said the use of drones is revolutionising a broad range of industries including agriculture, real estate, media, film and television.
"Science and industry are using drones for ecology surveying, for weed control, pest management and environmental monitoring," Farrelly told The Educator.
"Our grain producers monitor the health of bulk grain storage and help control pests in crops, using the technology, while farmers are using drones to check on the health and even the location of their stock."
Pace of change creating uncertainties
The recent Future of Work report shows that the rapidly changing landscape of work means that predicting the skills that students will need for the jobs of the future is becoming more difficult.
"What we do know however, is that we need to be providing students with a practical knowledge base and adaptable skill set which will open them up to a variety of career options across all industries," Mark Henley, director of transformation and digital strategy at Adobe, APAC, told
The Educator
.
"Schools need to be engaging students in educational programs that teach problem solving in a structured way, stimulate creativity, work collaboratively and challenge them to express their solutions with media appropriate to the task and audience."