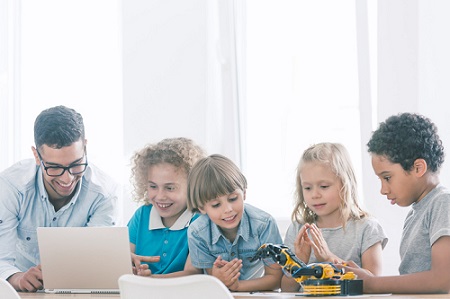 With automation and digitisation of the Australian workforce in full-swing, STEM education is considered as the way forward by policymakers and governments when it comes to preparing students for employment after school.
However, reports have shown that student outcomes across the four key disciplines of STEM have been slipping in recent years.
This issue was further illustrated in the Drawing the Future report, presented at the World Economic Forum (WEF) in Davos on 25 January, which found a significant gap between the skills required for the future workforce and children's career aspirations.
In 2014, at Google Australia's first Partner Summit, a serendipitous meeting took place between two organisations working hard to bridge this gap – Computer Science Education Research (CSER) group, and For Inspiration and Recognition of Science and Technology (FIRST) Australia.
CSER group, based at the University of Adelaide in the School of Computer Science, provides face-to-face digital technologies support for students and teachers in every state and territory across Australia.
The CSER team was introduced to Luan Heimlich, director of FIRST Australia, an organisation established at Macquarie University in 2006 which partners with schools and universities across Australia to help young people become science and technology leaders.
And so far, it's working. According to research, FIRST participants are significantly more likely to show gains in interest in STEM, STEM careers and understanding of STEM. They are also over twice as likely to show gains in their interest of STEM.
A nation-wide initiative
CSER research fellow and digital technologies expert, Dr Rebecca Vivian, said the partnership between the two organisations works towards the goal of bringing quality computer science learning opportunities to young people from two angles.
"FIRST Australia provides opportunities for young people through their exciting robotics program and CSER training teachers through free online courses and face-to-face workshops that enable teachers to build knowledge and skills to implement the Digital Technologies curriculum," Vivian told The Educator.
"We also support their students to participate in extracurricular programs, like FIRST Australia. CSER has over 24,000 teachers enrolled in the program across Australia and teachers are always looking for ways to engage students in authentic and exciting digital technologies learning."
Building staff capacity in digital technology
Vivian said that during the organisation's work with over 2,415 schools across Australia, she has found school leadership to be crucial in building staff capacity in digital technologies.
"Some best practices we have identified are when leadership learns alongside their staff and include the provision of time and opportunities for whole-school professional learning as part of their school curriculum implementation strategy," Vivian explained.
"As a starting point, we encourage schools or leadership to attend one of our free CSER digital technologies events with a project officer who can work with teachers to develop a professional development plan using our free resources."
Vivian said some success stories have involved cluster schools collaborating in an event together to establish a local network of support and the attendance of pairs of school teachers who then return to their school to champion professional development for all school staff.
"In our professional development at CSER we use unplugged and plugged activities that focus on the key thinking skills that enable teachers to scaffold students to succeed in their learning," Vivian said.
"We explore the pedagogy behind a particular digital technology, unpacking multiple, contextualised and extended learning opportunities that foster deep learning, rather than using lots of digital technologies at a surface level."
Vivian said schools should build a 'whole-school approach' to digital technologies that is authentic, meaningful and focused on solving the problems that mean something to students, schools and communities.
"By doing this, principals will ensure their school curriculum is much more than just technology-focused," Vivian said.
Related stories:
How principals can become technology leaders
How principals can prepare students for the digital future