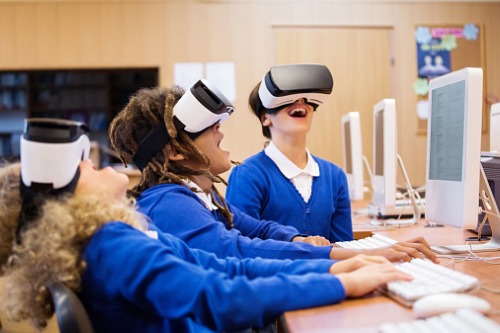 The use of virtual reality (VR) is seeing educators expand students' learning for horizons in significant ways.
For example, experiential learning through VR can help teachers accommodate each of their students different learning styles and introduce them to firsthand scenarios they wouldn't have otherwise been able to experience.
Now, a new partnership between the University of Newcastle and a VR learning platform will kickstart research into how to use virtual reality to enhance learning opportunities and outcomes for students in primary and secondary schools.
For the past three years Associate Professor Erica Southgate from the University of Newcastle has worked with her School of Education colleague, Dr Jill Scevak, on the VR School Study conducting research on the use of high-end VR in STEM and performing arts classes in high schools.
"The study yielded tantalising insights into the types of learning such technology can produce. The equipment we used in the study was expensive and this was a recognised barrier to scaling up VR in schools," she said.
Associate Professor Southgate said the VRTY platform offers an accessible and technically supported option to bring VR into classrooms in a curriculum-aligned way. She also suggests that VRTY may be more developmentally appropriate for younger children as immersive VR has a number of safety and ethical issues attached to it.
"Our research is exploring how the VRTY platform can inspire learners to create their own virtual environments that demonstrate higher order thinking by meeting learning outcomes," she said.
"It's all about how students can take knowledge that is traditionally delivered by teachers and make it their own by creating interactive interpretations and applications for others to experience."
Associate Professor Southgate said partnering with VRTY is a great opportunity to explore new ways of learning at a global scale using an engaging virtual reality platform with a diverse groups of learners.
"VRTY is a great entry point into virtual content creation – there's no need to code because the platform provides its own easy-to-use tools to let the imagination run free, enact design thinking, problem-solve, prototype and create and share feedback with others," she said.
"These are much-valued 21stcentury thinking and doing skills. Of course teachers are key to this as they plan the curriculum to guide and facilitate this type of learning with their students."
The relationship with VRTY began to grow when Associate Professor Southgate met VRTY co-founder Kingston Lee-Young at the Sydney VR/AR Association meeting.
"Kingston was showcasing the VRTY platform with a teacher and we connected over its potential to provide accessible VR experiences for school classrooms and global collaboration," she said.
"Imagine students in Australia sharing their VR creations with students in the Philippines or having students across nations collaborate to build shared virtual experiences."
Having young school-aged children themselves, the four VRTY co-founders quickly saw the potential of VR and interactive 360º content in helping to change the way students could learn about, discover, and immerse themselves in different subject matter.
"If we want our children to succeed in tomorrow's world, we have to change the way we are teaching them today. VR is one technology that can greatly enhance the educational experience and flip it on its head," Lee-Young said.
"This is an exciting collaboration with Associate Professor Erica Southgate and the University of Newcastle. If we can better understand how we can help improve learning through our VRTY creation platform, then we have done our part as parents and global citizens."
The VRTY collaboration will run for a year and Associate Professor Southgate will be blogging about the project as it unfolds on www.vrschoolresearch.com.
"Findings from the research will inform the development of pedagogical models to assist all teachers, from those in training to those in schools and vocational and higher education, use virtual reality technology for truly powerful learning," she concluded.