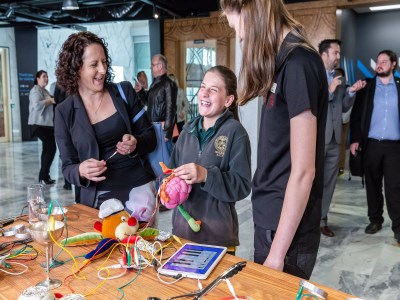 Two technology giants have renewed their partnership to engage thousands of students, teachers and communities in practical STEM education.
Questacon – The National Science and Technology Centre and Samsung Electronics Australia have renewed their Technology Partnership for a further two years in a bid to improve STEM education.
Over the past three years, the Questacon Smart Skills workshops have engaged more than 23,000 students and more than 2,000 teachers from 290 schools across Australia.
Questacon Director, Professor Graham Durant, said that working in partnership with industry leaders ensures that the organisation's programs involve "industry insight and real world experiences to excite and engage students in STEM and innovation".
The two organisations recently held a roundtable discussion on the role of creativity in STEM and the importance of STEM education for young Australians at the Ian Potter Foundation Technology Learning Centre, located in Canberra.
The panel, which included Tess Ariotti, head of corporate social responsibility at Samsung, discussed how students can overcome their fear of failure and use STEM innovatively.
Ariotti said the partnership contributes to Questacon and Samsung's mutual aim to foster engagement in STEM education amongst Australia students.
"It also provides opportunities for students and teachers to develop key twenty-first century skills. Questacon and Samsung work closely with school communities and teachers to ensure all support is relevant and practical," Ariotti told The Educator.
Ariotti said principals in regional areas where Smart Skills tours have the opportunity to provide learning experiences to their students and teachers that otherwise may not be accessible.
"There are three professional development workshops which can stand alone or be taken as a series for educators to learn about real-world, hands-on, digitally-supported approaches for teaching STEM disciplines," Ariotti said.
"The teacher workshops are complemented by student workshops, suitable for years 6 through to 12 which not only build vital STEM skills in students but have been found to encourage inspiration to study STEM disciplines and help students understand how STEM careers may be relevant to them."
Related stories: