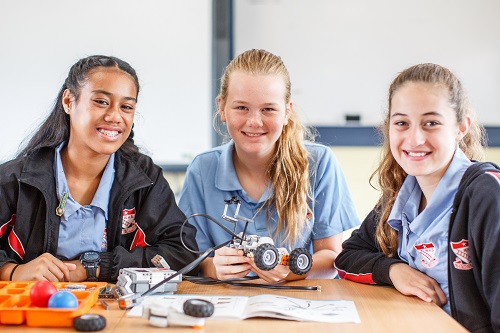 In 2016, the Pathways to Technology (P-TECH) program – an educational concept from New York – arrived in Victoria.
Not-for-profit Skilling Australia Foundation (SAF) partnered with interested stakeholders to develop the local version of the program, aimed at providing industry-supported pathways in order to increase the number of young people achieving a post-school STEM-related qualification.
Following a Federal Government grant, there are now 10 P-TECH sites across Australia, involving more than 2,500 students, with four more partnerships in development.
This funding has allowed an SAF industry liaison officer to be placed at each school to set up partnerships with training and education providers, business, industry and community to ensure students from Year 9 onwards are immersed in diverse local STEM-based activities.
Wyong High School teacher, Colin Henry, found his true passion in Information Technology (IT) and is currently thriving as the Student Services Co-ordinator and key IT teacher contact for the P-TECH program running at Wyong High, on the Central Coast, NSW.
Henry got involved with P-TECH because he and other teachers had previously started implementing a STEM program at the school.
As part of that, undergraduate students from the local campus of the University of Newcastle visited the school to run weekly workshops related to STEM – a nice lead-in to the P-TECH program.
From Year 10, P-TECH allows students to opt into enrolling for a Certificate III in Information and Digital Media Technology with support and mentoring from the local industry partners.
Initially, 26 students enrolled in the course, but four more have joined since the start of the school year. There are 150 students across Year 10 in 2018 at Wyong. Over three years, the certificate III students work collaboratively to complete the hands-on course.
'The bigger picture of career opportunities'
A registered training organisation guides Wyong's teachers on developing the TAFE-level subjects for the school.
"There are competencies we need to assess our students on. Most of them are open and allow us to slot in additional work and links to industry," Henry said.
A group of students are currently working with the Coder Academy to learn additional programming in order to understand data analysis basics for the Wyong High School Agriculture Farm.
Industry professionals also talk to students about their careers and subjects such as business development and different sectors within the IT industry.
"They're exposing our students to the bigger picture of career opportunities and giving them the chance to achieve soft and hard skills," Henry said.
"We're trying to skill up our students to be the very best version of what they can be. We're seeing students' attitudes changing."
Henry said P-TECH exposes students to hands-on work experience and gives them a level playing field in STEM industries through the connections the school is making.
"It's not the only benefit – I'm benefiting in my own professional learning by being involved in P-TECH," he said