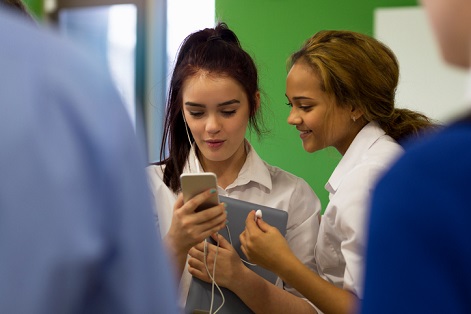 The question of whether mobile phones are a distractor, or facilitator, of learning has been a topic of debate since digital devices began entering Australian classrooms in the early half of the last decade.
Those who consider mobile phones a distraction in classrooms include renowned child psychologist Michael Carr-Gregg, Susan McLean, director of Cyber Safety Solutions and even Federal Education Minister, Simon Birmingham.
However, Trevor Furness – an ex-teacher and director at Instructure – says critics are failing to address "the real issue of digital transformation failures".
"For example, are schools enabling a productive and beneficial digital learning environment? How are they preparing for ongoing technological changes?" Furness said.
"Virtually every school in Australia is on some kind of digital transformation journey. Some are getting it right, while others are struggling."
So what's causing this discrepancy?
Furness said schools need to understand what students and teachers are working towards, and how to best support them with the right technologies.
"Without identifying the drivers of digital transformation, initiatives often fail to make an impact," Furness said.

"With advancements in education solutions, we're seeing new learning environments and pedagogical models that are more sophisticated and effective, but also more complex."
An important challenge in this context, said Furness, is to "understand a world that's always evolving."
Appointing accountability
Furness said that when digital transformations fail, institutions scramble to move on quickly, often ignoring the issue or sweeping the failure under the rug.
"Appointing responsibility is critical to the success of any project involving organisational change and should be a collaborative effort," he said.
"Schools need to clearly outline key performance metrics and objectives, assigning responsibility to teachers and IT departments, so they are more proactive in achieving specific goals."
Practicing agility and embracing digital
Every investment should underwrite a teaching and learning need or overarching strategy, rather than the other way around, said Furness.
"This helps ensure that schools are investing in the right places and are truly creating a productive and beneficial digital learning environment," he said.
"Another way institutional leaders can make a big impact is by entrusting not only their IT departments to drive change, but all staff."
Furness said this can be achieved through a culture of open two-way discussions around technology, and by equipping staff with the resources they need to understand technology trends and developments.
Furness said that technologies like LMS' are opening up possibilities for all students, regardless of socioeconomic demographics, or even geography, to experience "an equitable, fair and engaging learning experience".
"Yes, the issues surrounding digital learning environments are more complex, but equipped with the right technologies, skills and knowledge, educators can transform their classrooms to prepare for a future of continuous change and improvement," he said.

Related stories: