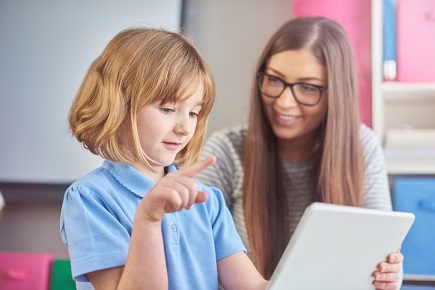 Recent reports highlight that Australian students are falling behind when it comes to developing basic skills in primary school, while one in five 15-year olds aren't achieving the standard they should be for maths, reading and science.
The social and emotional wellbeing of students is also an increasing concern to teachers, parents and the school community, and Australia is now ranked in the bottom third of OECD countries on primary school bullying, feeling of belonging at school and school-related pressure.
To help schools combat these challenges, one technology company has created a real-time feedback tool to help students overcome their learning anxieties in the classroom.
The Student Feedback Tool – created by technology company Vivi – was developed in partnership with teachers and is being trialled in several schools across Australia.
It provides students with a safe and discrete way to communicate their emotional state and general wellbeing through a series of emojis that are tailored to school requirements.
The tool monitors student engagement to identify disengaged, bored or challenged students, shares instant results related to lessons with the class (or keep them private), and sets up alerts for school staff triggered by results of wellbeing polls.
CEO of Vivi, Natalie Mactier said the new tool builds on Vivi's existing screen mirroring solution, which is already used by teachers in 23% of Australian private schools to engage students via a more visual and collaborative style of learning.
"It has never been more challenging to be a teacher. Meanwhile, students have never had so many distractions, nor so much pressure to succeed," Mactier said.
"We know that student wellbeing, engagement and performance are inextricably linked."
Mactier said that until now, teachers have had to read the room using their professional experience and intuition, or "clunky manual tools".
"It's been hard for them to build a case for resourcing support when they need it," she said.
"There's the saying: 'what gets measured gets managed'. Our Student Feedback Tool makes student engagement and wellbeing visible and measurable."
Mactier said this allows teachers to change their approach during lessons, and better personalise learning for students who are struggling emotionally or academically.
"Not only does this support academic achievement, but it also allows schools to keep track of the wellbeing of individual students and each class as whole," Mactier said.
"When used in a smart way, technology can be incredibly powerful and useful in the classroom.
Young people are also increasingly communicating and expressing their emotions through technology, so we are pleased to be supporting teachers with the tools they need to more effectively engage with students and speak their language.
"Vivi exists to create better connections between students and teachers, through technology.
We believe our new Student Feedback Tool will help improve understanding, relationships and student wellbeing and performance.
Importantly, our solutions are simple to use, require little training and work in tandem with existing resources meaning they can be implemented quickly and efficiently," Mactier said.