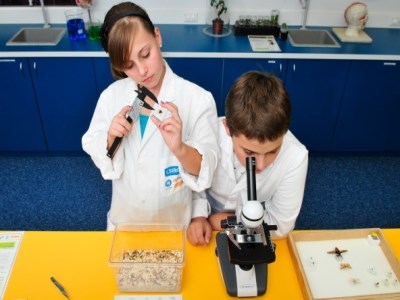 2017 is looking to be a big year for STEM education.
In addition to 12 further Pathways to Technology (P-TECH) schools being supported by the Federal Government, the revamped HSC syllabus promises to deliver an education that is more relevant to preparing students for the future workforce.
Now, the NSW Education Standards Authority (NESA) has announced that the state's top-performing HSC science students will soon be able to study a more challenging extension subject.
While students can already study extension maths, English and history for the HSC, there have been no high-level science subjects – until now.
The new subject is part of a push to make the final high school exams more rigorous and is in response to criticism that students are ill-prepared for university studies in science, engineering and maths.
Announcing the changes at Fairvale High School today, NESA chair, Tom Alegounarias, said the draft HSC Science Extension syllabus has been developed to engage the best and brightest students in researching challenging science topics.
"Disease, climate, space and time – these are the big scientific issues we want to inspire HSC students to pursue," Alegounarias said.
"There are exciting future opportunities for science students in industry, research and as informed contributors to community discussions."
Alegounarias encouraged teachers, parents, students, academics and the general public to look at the draft syllabus and have their say on what he called "an important STEM education initiative".
NESA CEO, David de Carvalho, said the course is pitched towards developing the research skills of our future scientists.
"The draft syllabus includes students choosing an area of scientific research to thoroughly investigate and identify future research opportunities," he said.
"The project component is driven by students' individual interests, to enable them to look closely into an area of science that fascinates them and which they may even go on to forge a career in."
Consultation on the draft Science Extension syllabus is open until 9 April 2017. Feedback can be provided via an online survey, public meetings being held across the state or a written submission.
Related stories:
Australia's P-TECH venture takes big leap forward
Biggest HSC overhaul in decades revealed