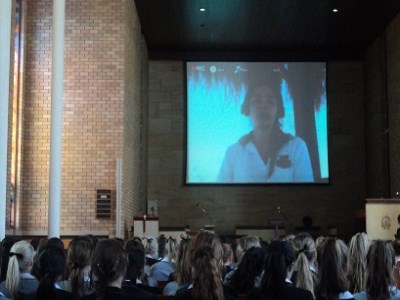 Abbotsleigh has leveraged video collaboration solutions from
Polycom
for more than seven years to add a new dimension to classroom learning.
Founded in 1885, Abbotsleigh is an independent, Anglican, day and boarding school for girls. Located in the northern Sydney suburb of Wahroonga, the school educates approximately 1,400 students each school year.
One of the leading primary and secondary educational institutions in Australia, Abbotsleigh augments its curriculum with the use of interactive collaborative communications including video.
Warwick Noble, IT director at Abbotsleigh, explained how the technology has taken on new dimensions at the school over time.
"Initially we began using video conferencing as a way to add a new dimension to classroom learning," Noble said.
Now we use it in a number of ways to extend classroom learning, but also to extend the resources and reach of the school."
Notably, the School supplements traditional lectures and off-site excursions with real-time lessons from specialists in Australia and around the world.
By doing so, it has been able to extend its resources and reach well beyond the four walls of the classroom to help prepare students to be true global citizens.
Year 9 science classes recently had the chance to participate in a virtual excursion with t
he Lee Richardson Zoo, based in the US.
As part of the session, students saw a unique range of animals that are not native to Australia and heard from experts on issues relating to endangered species. Asking questions directly to the expert in real-time, students then used this information in their classroom learning.
Another recent example of how video has successfully been used by the School is the linking of two Year 10 classes with the Grace Cossington Smith Gallery to virtually visit the
reSATURATEryb
exhibition.
The classes walked through the three main exhibition spaces in the gallery over video enabling students to interact with the gallery director in real-time without leaving their classroom.
Abbotsleigh also uses video to support staff development and inter-school collaboration - and to facilitate connections between its junior and senior schools, which are located on close but separate campuses in Wahroonga.
"One of our imperatives is that we are preparing our students to be true global citizens and this technology allows us to reach well beyond Sydney's north shore," Noble said.