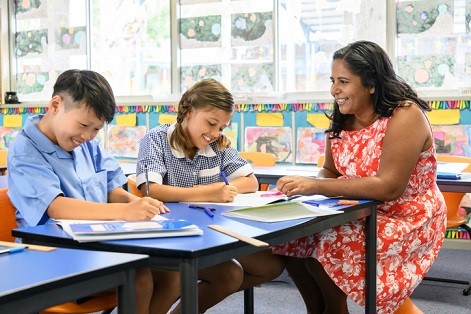 The scientific practices of South Australian Aboriginal Nations will be brought into the classroom for the first time in the state.
As part of the department's Aboriginal Education Strategy, the initiative aims to increase Aboriginal students' interest and participation in science subjects and ensure all students develop a deeper understanding and awareness of the contributions Aboriginal people have made and continue to make to science.
Starting with the Kaurna, Ngarrindjeri and Narungga Nations, local science teachers will work with Aboriginal Communities, the department, the SA Museum and the Australian Curriculum, Assessment and Reporting Authority (ACARA) to develop teaching resources and improve teacher cultural awareness.
As an example, in the study of chemistry students can look at Aboriginal knowledge of reversible processes as evident in the development and application of resin-based adhesives. Students can also investigate how the Aboriginal production and knowledge of these biodegradable natural plastics may contribute to the development of new plastic alternatives that can reduce landfill.
Aboriginal Elders and community members from each Nation are an integral part of the initiative in sharing their scientific knowledge with the department, ACARA and ultimately all South Australian learners.
The South Australian Museum, custodian of the largest and most comprehensive collection of Aboriginal cultural materials in Australia, are another key partner. They will be supporting teachers by collaborating with Aboriginal communities, organisations and the department to produce and provide digital resources based on cultural materials from the collection that are aligned to the Australian Curriculum: Science.
Executive Director Learning Improvement, Susan Cameron, said the initiative is "transforming the way educators teach science, in a way that is culturally relevant, respectful and of value to Aboriginal students".
"This initiative is a vital component of our Aboriginal Education Strategy and our STEM Learning Strategy aiming to inspire all students to want to learn science and pursue a career in the field," Cameron said.
"We're excited to be working with Aboriginal communities, their representatives and Elders, ACARA, and the South Australian Museum to explore the many examples that showcase how South Australian Aboriginal Nations have long worked scientifically and continue to contribute to contemporary science."
Curriculum Specialist, ACARA, Joe Sambono, said Aboriginal people for thousands of years have been working with the chemical components of nature to produce useful substances like adhesives, medicine, pigments, lime and acid.
"In the development of these processes and products innumerable challenges were overcome," Sambono said.
"Aboriginal and Torres Strait Islander people's long held capacity to work scientifically continues today, with the increasing presence of Aboriginal and Torres Strait Islander scientists across the STEM arena."