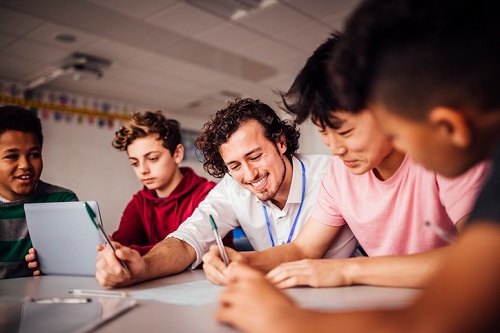 New research suggests that same-sex schools could be having a negative impact on the mental development of young people.
The study, conducted by Professor Lise Eliot – a neuroscientist at the Chicago Medical School of Rosalind Franklin University of Medicine & Science – has reignited the age-old debate of whether same-sex schools make a meaningful difference to a child's education.
Speaking on 60 Minutes on Sunday night, Professor Eliot claims there is no scientific basis for teaching boys and girls separately. In fact, she believes segregation of the sexes may actually be harmful for developing brains.
"In the last 10 to 15 years neuroscience has discovered the social brain, and so, to the extent that academic learning can be enhanced or impaired by those around us, the social environment is very, very important," Professor Eliot said.
Sydney's Barker College, which has been a boys' only school since 1890, began a transition to full co-ed with the introduction of girls into Pre-Kindergarten and Kindergarten in 2018. Girls will join the Junior School in Year 3 in 2019 and from Year 7 in 2020.
The College's principal, Phillip Heath, says the decision reflects the co-ed environment of the real world that students will enter once they leave school.
"How can you promote diversity when you exclude half the population?" he told 60 Minutes.
"Learning is a complex, human experience. To suggest that the best way for a girl to thrive is to remove a boy probably undersells both boys and girls."
But according to Loren Bridge, executive officer of the Alliance of Girls' Schools Australasia (AGSA), there is a growing body of research supporting the case for single-sex schools.
Bridge pointed to a 2017 report by the Australian Council of Educational Research, which analysed the numeracy and literacy (NAPLAN) data for students in Years 3, 5 and 7 at single-sex and co-educational schools.
"It found that boys and girls at single-sex schools achieved higher scores than co-ed students even when socio-economic status was taken into account," Bridge said.
"Girls at single-sex schools were 4.2 terms ahead of co-ed students in reading and 2.8 terms ahead in maths. Boys at single-sex schools were, on average, 1.6 terms ahead of co-ed students in reading and 3.9 terms ahead in maths."
However, Bridge says a good education is not solely about academic performance.
"It's also about nurturing the development and growth of confident, resilient and inquisitive global citizens," she said.
Bridge said there are studies that show "unequivocally" that students in single-sex schools benefit from a learning environment free from gender stereotyping, unconscious bias and social pressure.
"For girls it is the social and emotional support, confidence and approach to challenges, risks and leadership opportunities that girls' schools provide," she said.
"Simply put, every aspect of a girls' school is tailored to girls and how they learn, without competition and social pressure from boys, and this is enormously empowering for girls in their teenage years."