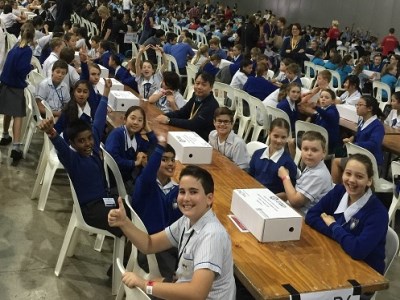 Thousands of Queensland students have done their state proud by breaking a Guinness World Record (GWR) at the Brisbane Convention and Entertainment Centre last week.
A total of 2,895 students from Year 5-10, representing 35 schools across the state, set the Guinness World Record for the largest practical science lesson, beating the previous record, set by 2,102 South African students in 2015.
Students were placed into groups of four and given a box containing materials they used for a practical science lesson on magnetics.
The lesson, conducted by a teacher on stage, was later judged by a GWR umpire, who declared the Queensland students the winners.
The world record attempt comes ahead of National Science Week, which runs from August 13-21.
Queensland Premier, Annastacia Palaszczuk, said Queensland's world record success made a positive statement about young peoples' interest in science.
"I congratulate all the students who have set this impressive Guinness World Records title for the largest practical science lesson," she said in a statement.
"It's fantastic to see young Queenslanders so enthusiastic about being involved in science."
Rochedale State High School student Eric Im, 14, told
The Brisbane Times
that despite initial jitters he found the experience fun and was inspired to see other students as interested in science as he was.
"I felt excited but I was actually a bit worried, mostly excited. I was worried that this experiment was too much for me, but it was really fun at the end, I really enjoyed it, it was fun," he said.
"I think it is really interesting that there are a lot of kids here and it is exciting to think there are so many kids here who enjoy science like I do."
Participating in – and winning – the competition was surreal for Brisbane State High School student, Taylah Apiata, 13, who said it was something she never thought she would do in her lifetime.