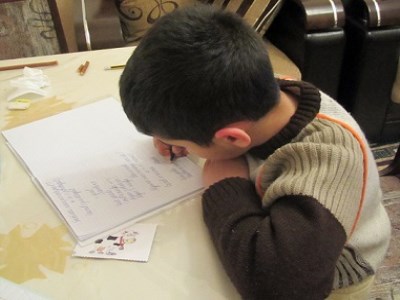 The Victorian Government has released new data showing that its successful LOOKOUT program is making a significant difference to the learning outcomes of students in out-of-home care.
The aim of the LOOKOUT Education Support Centres, which employ education and allied health staff, is to give children in out-of-home care a better chance of succeeding at school and later on in life.
Out-of-home care includes children in foster care, residential care, permanent care and kinship care, which is where children and young people are generally placed with a family member or close friend to provide 24-hour care.
Today, Victorian Education Minister, James Merlino, announced the results of the program's pilot trial, which took place in the state's south-west in April 2016.
According to the data, the number of students in out-of-home care who were not enrolled in school declined from 64 to 17 by December 2016, and expulsions reduced to zero.
There are now seven LOOKOUT Centre staff across the state's south-west who are working to boost the capacity of schools, carers, and child protection workers, and ensuring students in care have access to a good education.
"It is incredibly exciting that LOOKOUT is showing such promising results for students in out-of-home care. Many of these students need a helping hand to remain engaged and thrive at school," Merlino said in a statement today.
"By expanding LOOKOUT we can improve the lives of these students and make sure that they get the best out of their education and reach their full potential."
The program is part of the Victorian Government's $566m boost to needs-based funding that was introduced in 2015. The funding, being rolled out over four years, was targeted at dramatically reducing disadvantage across the state's school system.
Victoria's Minister for Families and Children, Jenny Mikakos, said children in home care are some of the most vulnerable in the community and that the state's government was actively working towards giving them better life outcomes.
"The results of this trial show that LOOKOUT is having a profound impact on vulnerable children's lives," she said.
When the funding was first announced, Victorian Premier, Daniel Andrews, said the funding model was unique in Australia.
"For the first time, parents' education attainment, their job, what they do for a living, is being taken into account. No other Australian state does this," Andrews said in a statement.
"We know that often these factors are linked to the disadvantage that students and school communities face."

A spokeswoman for the Victorian Education Department told The Educator that the Victorian LOOKOUT model is based on the UK Virtual Model.

"We have worked closely with colleagues in the UK, including visiting UK Virtual Schools, and we have established mentoring relationships between Virtual School Heads in the UK and our LOOKOUT Centre principals," she said.

"As far as we know, no other Australian state or territory has a similar model."