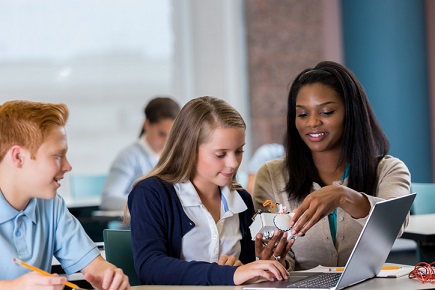 Australia is well placed to become a potential leader in a looming worldwide education paradigm shift, says Montessori Australia Foundation (MAF).
Montessori is a method of education that is based on self-directed activity, hands-on learning and collaborative play. In Montessori classrooms children make creative choices in their learning, while the classroom and the teacher offer age-appropriate activities to guide the process.
Christine Harrison, MAF president, said the Foundation supports Gonski's recommendation to place the learning growth of each student at the centre of the nation's education model.
"We view transformation of the current education model as an urgent priority and support evidence-based changes that provide students with the capabilities to flourish in the knowledge economy," Harrison said.
"Any true innovation in education requires a model that understands how the brain develops, not a model based on factory efficiency that constrains students, teachers and school leaders."
Harrison said Gonski's initiation of this discussion places Australia as a potential leader in what will "inevitably be a worldwide education paradigm shift - a true innovation in education".
"Thus, we fully support Gonski's recommendation to prioritise learning growth rather than specified learning outcomes based on age and grade," she said.
'An urgent discussion'
Harrison said the transformation of the current education model needs to be "an urgent discussion to be had globally".
"Segregating children by grades and dividing each day into subject blocks requires each classroom to be teacher-directed," she said.
"But how do teacher-directed classrooms organically provide students with opportunities to practice problem-solving, interactive and social skills, and critical and creative thinking?"
Harrison said that by partnering with students so they feel more ownership of their education fosters a lifelong love of learning.
"Individualised learning based on the student's developmental level and the interests of the student fosters engagement and self-regulated learning. Developing these capacities is essential to ensure Australia will be a leader in the knowledge economy," Harrison said.
However, some experts are skeptical that the changes will lift student outcomes.
Dr Glenn Savage from the University of Western Australia, said the idea that a radical national overhaul of curriculum, assessment and reporting is the primary way to stop Australia's declining student achievement "feels a bit Groundhog Day".
"This was exactly the logic that drove the creation of the national curriculum in the late 2000s, and led to other unprecedented national reforms. These include NAPLAN, the My School website, and national teaching standards," Dr Savage wrote in The Conversation.
"The problem is, despite time, resources and investments committed to revolutionising Australian schooling, these grand designs have done nothing to stop declining student achievement."
Related stories:
Principals respond to curriculum overhaul
PM backs radical overhaul of curriculum
Gonski looks to evidence-based teaching as the way forward