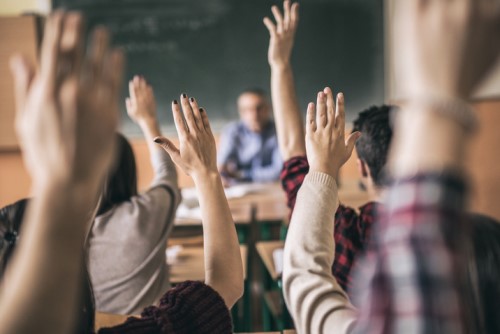 A recent study revealed that schools are failing to prepare students for life after the classroom – an issue with far-reaching implications.
It is forecast that there will be about 516,600 job openings per year from 2017-2024 in Australia, with some 200,000 new jobs in South-Western Sydney alone.
While many of these jobs will need to be filled by local people, research suggests school leavers are lacking certain skills required in the workplace and life.
Recognising this, emotional intelligence, resilience and leadership expert, Mike Conway, developed an Australian first program to help schools deliver important life skills to students.
Based on the successful pilot in two schools in 2017, the XVenture Schools Program launched in 11 Sydney schools this year focusing on building confidence, emotional intelligence (EQ), resilience and leadership skills in students in Years 10 and 11.
Below, The Educator speaks to Conway to find out more.
TE: Studies show that schools are failing to prepare students for life after the classroom. Many would argue that this is the core responsibility of schools. Where do you think the Australian education system has gone wrong in this regard?
MC: The educational sector is filled with teachers and principals dedicated to providing students with superb education and learning experiences. Timetables are already packed with subjects set to meet entry criteria demands of higher education institutions. The challenge with today's environment, is that our world is rapidly changing and consequently workplace demands are also shifting. Many schools don't have the resources to create and deliver programs that are specifically catered to equipping students with the skills required in navigating this fast-paced change. The XVenture schools program aims to provide this support through its easily accessible course focused on developing emotional intelligence, resilience and leadership capabilities.
TE: Why is educating children about emotional intelligence important for schools?
MC: Providing the learning opportunity to develop emotional intelligence provides valuable skills for greater success in years at school and beyond. An emotionally intelligent and agile person has a greater awareness and understanding of themselves, are better placed to develop deeper and more meaningful relationships with those around them and are more capable in dealing with change and pressure situations. In our corporate work with individuals and teams of executives at MBA level or even senior management level, we are seeing a number of people that have never had the exposure or opportunity to work on developing their emotional agility. With support and coaching utilising reflective process and experiential learning, they become attune to elements that, in the past, may have been a hurdle in their professional and personal development. Based on our work and research, we developed the XVenture Schools Program to provide the opportunity for students to learn and develop emotional agility at a younger age as well as supporting young people with the valuable skills connected to EQ, resilience and leadership.
TE: In your view, what are the most interesting and valuable aspects of this program for Australian K-12 school leaders?
MC: The XVenture Schools initiative is designed to fit into any school environment. Over two days, teachers from participating schools are trained to facilitate and deliver the six-phase program in their own schools. All content for the program sits on XVenture's online platform which provides access to teachers for: slides, run plans, articles, videos, experiential challenges (which utilise resources/materials commonly found in schools), reflective tools and more. Students have access to a student version which enables them to revisit content, which is particularly useful when writing their reflective and group assignment. XVenture Schools has been designed to complement the current school curricula and is flexible enough to be delivered in any school environment over 12-16 weeks. Incorporated into the program are contemporary leadership insights as well as employer and higher education perspectives. Some schools have used student participation as a way to identify future leaders for the school.