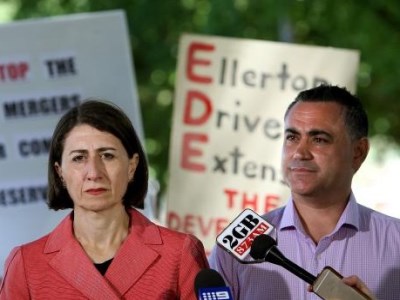 NSW Education Minister,
Adrian Piccoli
, often hailed as the nation's best education minister, has lost his job after a cabinet reshuffle by new Premier, Gladys Berejiklian.
During his six years as the state's education minister, Piccoli implemented Gonski funding reforms, gave principals greater decision-making authority, rolled out reforms to improve teacher quality and bridged the divide between rural and Sydney schools.
Speaking to reporters in Queanbeyan, Berejiklian said that Piccoli had done "an outstanding job" as education minister over the past six years but that "fresh blood" was needed.
Replacing Piccoli will be former planning minister,
Rob Stokes
, who the outgoing education minister wished well in the portfolio, describing it as "the greatest job a minister can have".
"Education has the power to transform lives; that's why I think it is the greatest job a minister can have," Piccoli said in a statement.
"I can look back over my time as minister satisfied with what I have achieved."
NSW Deputy Premier John Barilaro, said that Piccoli had been "the best education Minister that NSW "and probably the nation" had ever seen. However, he agreed with the Premier that a fresh start was needed.
"It's time for reset; he's been a minister for six years. We're looking to the future, and Adrian leaves a strong legacy, one we'll continue to build on," he said.
In a statement today, the NSW Secondary Principals' Council (NSWSPC) president,
Chris Presland
, said Piccoli had made "an outstanding contribution" to NSW education.
"Adrian Piccoli consulted widely, was always prepared to listen to a variety of stakeholders and showed a strong commitment to formulating policy based on facts and evidence," Presland said.
"However most significantly, Mr Piccoli also understood the complex operational environment of schools and the importance of actually talking to and seeking advice and data from teachers and principals."
Presland added that Piccoli's commitment to the Gonski model of school funding would also be an enduring legacy of his time as Education Minister.
"Mr Piccoli should be very proud of the work he has done over the past 6 years as Education Minister in areas such as rural and remote education, the literacy and numeracy action plan and raising the status of teaching as a profession," he said.
"However, it is the stance Mr. Piccoli has taken on Gonski funding that is perhaps his most commendable legacy. NSW was the first state to sign the Gonski agreement in 2013 and this important milestone reflects Mr. Piccoli's genuine commitment to supporting needs based funding."
Presland also welcomed the new Education Minister, Rob Stokes, to the portfolio.
"The NSW SPC looks forward to working closely with Minister Stokes in the coming months as we continue to advocate for the full implementation of the Gonski funding agreement," he said.
"2017 will be a watershed moment in the history of school funding in Australia. This is a wonderful opportunity for Minister Stokes to build his own legacy by securing an evidence based funding model which will enhance the educational opportunities for all NSW schools."
The Educator
has contacted the office of the NSW Premier and incoming education minister Rob Stokes for comment.
Related stories
:
Exclusive: Piccoli's vision for principals
Dumping Minister would be a 'travesty' – principals