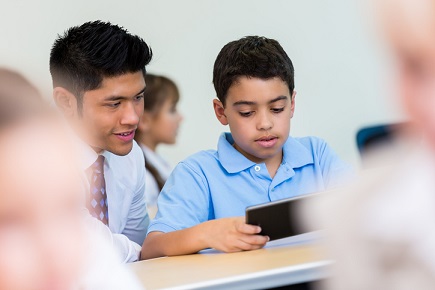 What kind of messaging are you sending to your parent community about technology?
Fearing that technology is too much of a distraction to their students, some principals have taken a hard line against digital devices, in some cases banning them from classrooms altogether.
At the start of Term 1, Melbourne's McKinnon Secondary College's students were asked to lock away their smartphones until the end of the school day.
The school's principal, Pitsa Binnion, said that since the ban, students have been more engaged in their learning and are quicker to become focused in class and apply themselves to class activities.
So is banning smartphones from the classroom a strategy that other school leaders should consider doing?
According to one expert, this approach could be counterproductive for school leaders.
Dr Joanne Orlando, a senior lecturer in early childhood and education at Western Sydney University, said that when it comes to how principals approach the topic of technology with their school community, they should be mindful to focus on the positives as well as the cautionary aspects of digital devices.
Last year, Dr Orlando discovered something peculiar while delivering a series of keynote speeches to senior education leaders around Australia.
She found that as she worked her way through the keynotes, many schools were allocating a large portion of their budgets to technology, but the recurrent theme of their messaging to parents about technology was markedly negative.
"The message principals was giving to parents was that technology was something inherently dangerous. Their information nights and newsletters always focused on cybersafety and other protective elements – not the benefits," she said.
"It's very hard for principals to get parents on board if they're giving them these kinds of mixed messages. Safety and security is obviously important, but schools need to also focus on the value of technology and how it empowers better learning."
This is a particularly important message for principals leading primary schools, Dr Orlando said, adding that principals must recognise that "technology is just as important in younger year levels as it is in senior ones".
"I find there is a tendency for just the older children to use technology, and for the better resources to go to these children," she said.
Dr Orlando said that from what she has observed over the years, schools seem to be providing less technology-related opportunities and resources for younger children, who are more often than not, entirely capable of leveraging technology to improve their learning.
"There is also a limited understanding of what a six-year-old can do on a laptop or iPad, so I think principals should develop the technological expertise of their teachers in younger year levels and feel confident that younger children can use technology effectively," she said.
Related stories: