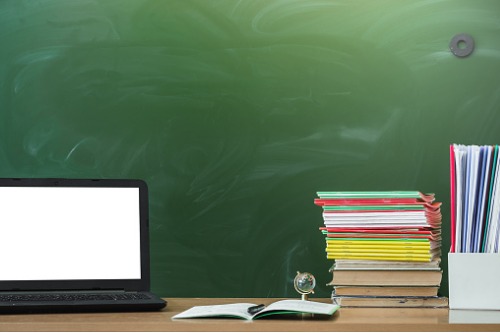 St Rita's College in Clayfield has farewelled a hallmark member of its staff, Paul Jarvis, after 40 years of teaching at the campus' secondary school.
After moving from Sydney to Brisbane to follow the love of his life, who he married in 1979, Mr Jarvis began teaching at St Rita's in 1980 as a 28-year-old in the subjects of Economics, Business Principles and Mathematics.
Jarvis was the first male teacher employed at St Rita's, which at the time was still run by the Presentation Sisters.
He recalls a story about a student who went missing for three weeks, later followed by a letter from the student's mother who claimed her daughter was "in shock from having a male teacher."
Six years into his role, St Rita's became one of the first schools in Australia to introduce The Study of Religion into the curriculum.
Jarvis worked with (now late) Sister Marlette Black, the Principal at the time, on the new cutting-edge subject, which was to become a mainstream acclaimed subject in all Catholic schools – challenging and extending students in their thinking of history, philosophy, anthropology and sociology in determining the history, origins and functions of races and creeds.
Alumnae from across the decades often recall Mr Jarvis as their favourite teacher, who was always inspiring, engaging and caring.
At a special assembly celebrating the long-standing commitment he made to each of his students, Principal of St Rita's College, Mrs Dale Morrow, paid homage to the impact he has made on so many lives.
"Teachers work to make sure that they are giving their students the best opportunities possible – every lesson, every day.
Going hand in hand with that responsibility is the connection a teacher makes with each student. Learning occurs when connections are genuine and care is evident. These are the hallmarks of Mr Jarvis' time at St Rita's," Mrs Morrow said.
"He loved to extend the girls and always would encourage them to have an open mind on issues. He would push for the girls to be worldly – that is to know what was going on in the world and to have an opinion about world affairs.
He has always been and remains passionate about young people participating in our government and understanding issues that will affect not only their lives but the lives of others.
"He has a strong belief in understanding content and using that understanding to think critically…. To think in novel ways, be self-directed and to always question why you think what you think.
He wants his students to have the ability to think about important issues and to always come from a position that is informed by research."
In his final address to staff, students and many alumnae who attended the assembly,
Mr Jarvis remained humble and humorous as he reminisced stories from across the years.
"I have absolutely loved being here, for you - the everyday student here at St Rita's - this is what it is all about," he said.
"What I've loved most about my time is the amount of laughter. People ask me why I am so happy, and I say it's because I spend most of my days laughing.
"What I wish for you all is good relationships and the guts to always stand up for what is right."
College Vice Captain Miss Grace Egan, who was also a member of Mr Jarvis' Pastoral Care group spoke on behalf of the students, thanking him for his insight, wisdom and sense of humour.
"It feels surreal to be saying goodbye to a teacher who has been here not just for all our time, but for almost forty years," Miss Egan said.
"How lucky we are to have been taught by a man of such calibre and knowledge.
Not only does he passionately teach within the classroom, Mr Jarvis has always encouraged students to challenge the status quo, inspired them to experience the world, and to embrace life after school."