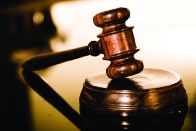 A District Court has slashed the sentence of a former NSW teacher who molested a 15-year-old student at his school, Yahoo7 News reported.
In August last year, David Reginald Croxon, was jailed for at least seven years after pleading guilty to aggravated indecent assault and having sexual intercourse without her consent in circumstances of aggravation.
Croxon, who taught at Shoalhaven High School on the state's south coast, also pleaded guilty to two other similar offenses on the morning of his trial.
However, on Wednesday the NSW Court of Criminal Appeal reduced the non-parole period to four years six months after finding the sentencing judge erred in totally accumulating the sentences.
The maximum term of 11 years five months was reduced to five years 11 months.
An agreed statement of facts referred to him taking her into the staff room after she asked him to help her in compiling a resume.
After groping her breasts and touching her over her underpants, he told her: "I swear to God if you tell anyone I'll kill myself".
Months later, after unsuccessfully trying to get her to meet him outside school, he took her to a classroom on the pretext of giving career advice when he digitally raped her.
The girl immediately told a friend who said she was crying and shaking, and said "I'm so scared I don't know what to do".
The friend persuaded her to go to the deputy principal which led to police being contacted.
Justice Geoffrey Bellew, sitting with Justices Clifton Hoeben and David Davies, said general deterrence, denunciation, and the protection of the community are all relevant factors when re-sentencing.
"The gross breach of trust in which the applicant engaged in committing the offences cannot be understated," he said.
"Moreover, the first incident was accompanied by a threat by the applicant to the victim that he would kill himself in the event that the victim reported what had occurred."
However, Justice Bellew also noted subjective factors including that Croxon was of previous good character, has been assessed at presenting a low risk of sexual re-offending and had expressed his remorse to the victim.
Croxon will be eligible for release on August 25, 2019.
Related Stories:
Former principal sentences in fraud case
Teacher suspended, arrested