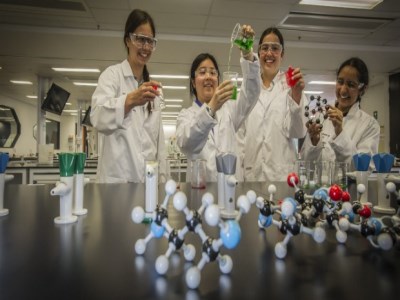 Deb Smith recently took over as chair of the non-profit Australian Science Innovations (ASI), which runs the Australian Science Olympiads Program – a national extension program for top performing secondary science students.
She told
The Educator
that in her new role she hoped to further inspire students who were already excelling in the discipline of science.
"There are two things we really want to do. The first is to support highly achieving students. The Australian Science Olympiad is about highly achieving students who are motivated and want to represent Australia," she said.
Smith added that ASI also wants to promote a more exciting and hands-on learning experience for students in the areas of Science, Technology, Engineering and Mathematics (STEM).
"For me, the most important things in the classroom in terms of teaching are engagement and relevance. Teachers have to make science interesting so kids want to learn it," she said.
To help achieve this, ASI are currently running a mentoring program in association with the Australian Maths Trust called 'Curious Minds' – a hands-on initiative aimed at igniting girls' passion in STEM.
The program targets
highly capable girls in Years 8, 9 and 10 who have an interest in these learning areas and pairs them with a female mentor recruited from a variety of STEM backgrounds. Together, they construct personal goals for the student.
"As part of this program, we identified a school of girls from rural and remote Indigenous backgrounds and invited them to the Australian National University [ANU] in Canberra to participate in a relevant science project," she said.
"There were lots of female lecturers who mentored the girls on the project, which was about water management."
Smith added that the current program – which has been running for six months – will conclude in July when the girls will hold a presentation at ANU to demonstrate what they learned during the experience.
"It's about setting a story that engages them and makes them want to find out more. They're all coming up with their own questions – the mentors are just there to help them work through those questions to answer them," she said.
"The wonderful thing about this is that there are no wrong answers, so there is no pressure for the participating students."
Smith pointed to the research on stimulating interest, innovation and relevance in science – factors she said make students proactive about engaging STEM education.
"These are the things that make students want to get involved. They come into this program because they've done what they can at school and they want more of a challenge – and that's what we provide," she said.
Smith added that students' engagement in STEM was likely to further decline unless the subjects were made more exciting, relevant and hands-on.
"We need to get rid of national testing. It's no coincidence that the countries with the best student outcomes are the ones that abolished standardised testing."