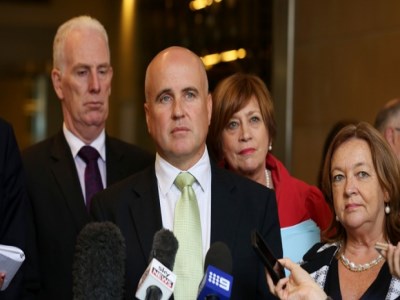 Know the old adage 'if it's not broken, don't fix it'? Well education ministers will give Christopher Pyne a slightly different message today: 'It is broken, but you're fixing it wrong'
State and territory leaders are today meeting in Canberra to discuss how to simplify the national school curriculum, but a spokesman for Education Minister Christopher Pyne said it is unlikely that any agreement over changes to the curriculum will be made.
The ministers are at odds with the Federal Government over the extent of the changes to the existing curriculum as proposed by the
Australian Curriculum, Assessment and Reporting Authority
(
ACARA
).
Among the recommendations being considered are how to address the overcrowded curriculum, a greater focus on numeracy and literacy in the early years of primary school and a reduced emphasis on Indigenous history and Asian studies.
The ministers are also expected to discuss moving NAPLAN testing online, in addition to ways to improve parental engagement in schools and expanding Commonwealth support for universal access to preschools.
West Australian Education Minister
Peter Collier
said any advice provided by ACARA "will be considered by Western Australia as part of its syllabus review cycle".
"It is Western Australia's responsibility to implement timelines and pathways for its schools," he said.
Minister Pyne has previously stated he is confident that an improved curriculum could be in place in time for the start of the 2016 school year; however some state ministers believe this timetable is too optimistic.
The timing of any changes will need to be agreed to by all education ministers in each state and territory.
The Educator
will keep readers informed of this developing story as it develops.