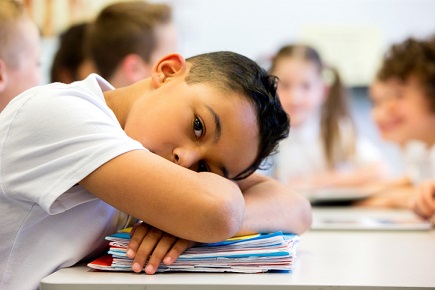 According to the UN High Commissioner for Refugees (UNHCR), more than half of the world's refugee children (3.5 million) do not attend school.
For those who do, education can often be an uphill battle. Fitting in to a new country and struggling amid the various stereotypes of refugees that exist in many countries can be an upsetting experience for these children.
However, research shows that despite these challenges, young migrant and refugee children around the world achieve high levels of academic success.
A study by the Organisation for Economic Co-operation and Development(OECD) has found that 58% of people aged 25-44 with foreign-born parents go into higher education, compared with 46% of those with British-born parents.
Another OECD study, which reviewed migrant education, found students from the Philippines, China and India are more likely to achieve baseline academic proficiency than their Australian-born counterparts.
Now results from the first census of young Australians from refugee and migrant backgrounds has revealed that most migrant and refugee children are confident in their ability to achieve their goals, be it work or study.
Almost 2,000 young people took part in the Multicultural Youth Australia Census, conducted by researchers from the University of Melbourne's Youth Research Centre in September and October 2017.
According to the study, 87% of participants said they feel 'positive' or 'very positive' about reaching their future goals, with the top two values and goals being 'having a job they were passionate about' (61%) and 'being active in working for a better society' (45%).
"This is despite almost half (49.6%) indicating that they were unemployed or underemployed, with racial discrimination the most commonly cited reason for why it is difficult to find work," University of Melbourne Professor, Johanna Wyn, said.
Professor Wyn said if we want to live up to the image of Australia as the most successful multicultural society in the world, it is time to stop scapegoating migrant youth as criminals or extremists.
"This census reveals that migrant and refugee youth are socially-connected and have a strong civic and participatory outlook," she said.
"It's time to fund programs and create opportunities that capitalise on their optimism, civic capacities and desire to belong. The diversity of Australian society is shaped by migration, so we must do more to support these young people to feel valued and safe."