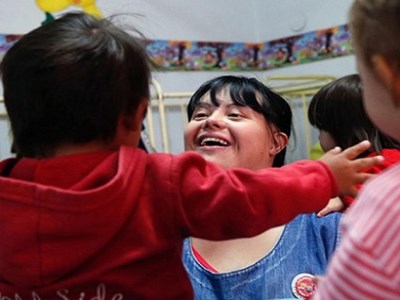 Can a person with a cognitive syndrome be in charge of a class? One preschool teacher in Argentina has broken this taboo.
As a young girl, Noelia Garella was barred from a day care centre because of her disability. In an attempt to justify the decision, its director told her parents: "No monsters here".
Today, at 31 years of age, Noelia Garella is the first Latin American preschool teacher with down-syndrome – and one of just a few in the world.
She admits that her disability meant that her application for the job was not easy, however teachers, parents and even her city's mayor threw their support behind her and soon, her life-long dream had become a reality.
"I have always wanted to be a teacher, because I like children so much. I adore this," she told
AFP
.
"I want them to read and listen, because in society people have to listen to one another."
Alejandra Senestrari, the former director of Garella's school, told
AFP
that speaking to Garella, it soon became clear that she was more than capable of the job.
"We very quickly realised that she had a strong vocation. She gave what the children in the nursery classes most appreciate, which is love," she said.