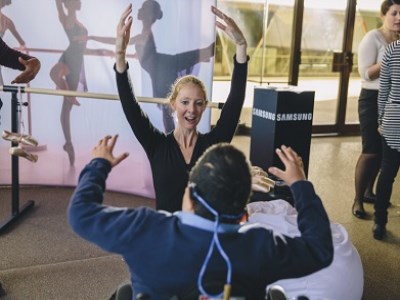 A leading technology provider hosted a unique event for special needs students at the Sydney Opera House on Wednesday 24 August, providing them with the chance to engage with the arts and new education opportunities, supported by technology.
Samsung hosted the
Samsung Dance Discovery
– a multisensory education workshop which combined the arts with Samsung technology, including the Gear VR to offer an immersive education experience and enhance learning outcomes.
Designed as an extension to The Australian Ballet's "Out There" program meant to connect the youth of Australia with dance, Samsung's concept took the educational needs of the program and linked it up with the technology that students are beginning to be exposed to, such as tablets and virtual reality headsets.
Penelope Earp, assistant principal of Wairoa School, told
The Educator
that the event was a "very different medium" for her students, adding that they enjoyed the experience.
"Many of our students had their parents supporting them at the workshop and performance and this was a lovely way for us to work collaboratively with our families," she said.
"By integrating technology into the heart of the workshops we were able to enhance learning outcomes and produce an interactive workshop that students with special needs were able to fully engage in," said Tess Ariotti, Corporate Social Responsibility Manager at Samsung.
"All aspects of the activity were created through consultation with the teachers of these students, making sure the workshops were easily accessible for students of all levels."