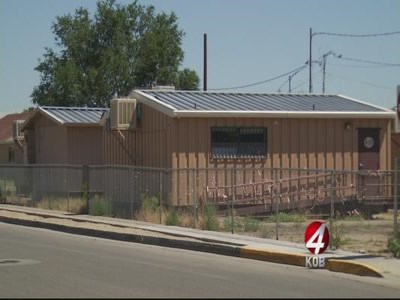 A kindergarten teacher at an Albuquerque school got an odd surprise last week.
When the Mary Ann Binford Elementary School teacher unlocked the door of her classroom she discovered a makeshift entertainment area, including a bed, a pillow and a towel.
Even more strangely, there was a DVD playing bootleg movies – however, the room was otherwise empty and whoever had decided to make themselves at home in the classroom was nowhere to be found.
The principal then called the police who looked into the incident and discovered that the surveillance cameras in the classroom had been tampered with.
The school's principal said she was comparing the handwriting on the bootleg movies – which include age-inappropriate titles such as "The Boy Next Door" and "50 Shades of Grey" – with suspected staff members' handwriting.
However, investigators have declined to say definitively if it was a school employee who had set up the lounge area.
"That's wrong. Very wrong. It's very scary. I don't want my child looking at that stuff," parent, Gaby Carbajal, told
KOB 4 News
.