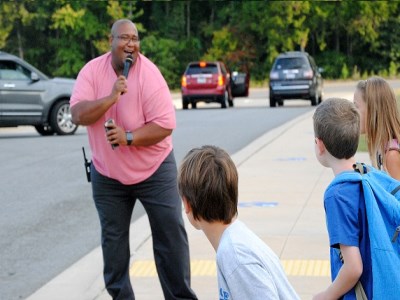 As a principal, it's important to begin your day with a positive and focused frame of mind. One assistant principal in Conway, Arkansas chooses to do this every morning by kicking off a dance party outside his school's gates.
Each morning, Woodrow Cummins Elementary assistant principal, Gary Logan, greets his students and teachers by boogying to a different tune or dance routine each morning.
And don't think his playlist is full of Little Richard and Chuck Berry. Logan makes sure he keeps up to date with the hit songs kids are listening to in 2015.
"They love that Whip and Nae Nae,"
Logan told KARK
.
"They want me to play it every day. They want to dance every day."
Fortunately, the fun-loving assistant principal's musical antics don't' go unappreciated.
In
a video posted on Facebook
by
KOLR10 & Ozarks Local News
, children can be seen dancing enthusiastically to Cyndi Lauper's "Girls just wanna have fun" as Logan's imposing figure boogies right along with them.
"It makes their day and it makes mine to see them smiling and happy," Logan told
KOLR10
.
"I don't do bad days. Every day is a good day."
Some of the school's students explained why they appreciated Logan's daily greeting dance.
"It just lifts everybody's spirits," one student said.
"It just makes us have a great start to our day," another added.
Now, Logan's good-intentioned antics have gone viral on social media, drawing in some overwhelmingly positive comments.
"Sometimes the best teachers are the ones that think outside the box," writes one commenter, while another posts, "Outstanding! We can definitely do with more people like him not only in the news but in the world."