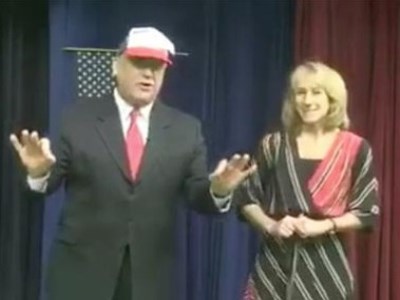 A principal has landed herself in hot water after a video was leaked to parents showing her and her deputy parodying US President, Donald Trump and his campaign manager, Kellyanne Conway.
The video was aimed at connecting the satirical skit to the myriad of work that lay ahead for the school – Boulder Creek High, located in Arizona – and its faculty.
However, parents didn't see it that way and promptly launched a petition to make sure the principal, Lauren Sheahan and her deputy, who is also the school's athletics director, Jay Kopas, were held accountable for the "deeply offensive" video.
Kopas, wearing Trump's trademark "Make America Great Again" hat, bellowed insults like, "keep those moron parents and weak and loser students out."
Among other things, the skit included a bit on building a wall, a dig at the school board and called out staff members by name.
A parent who helped launch a Change.org petition demanding the removal of Sheahan and Kopas said the Anthem community was outraged by the video and its insults.
"This is meant to be funny but has offend a large majority of the community not to mention a complete embarrassment to Boulder Creek High School and to the Deer Valley School District. Sheahan and Kopas need to be held accountable for their actions," she wrote.
"An example needs to be made and the only resolution to this matter is immediate resignations from both Lauren Sheahan and Jay Kopas."
In a letter sent on Sunday afternoon, Sheahan apologised, saying the skit should not be viewed as a political statement.
"I'm deeply sorry to anyone who was offended. The intent was to share it only with the staff and connect the satirical skit to our work ahead of the rest of the school year," she said.
The school district said it was unaware of the video until media outlets began asking about it, and insisted the skit was not something they endorsed.
When asked whether the principal and staff member would face any sort of disciplinary action as a result of this the spokesperson said they were still looking into the matter.
"The administrators in question have been placed on leave with pay pending an investigation," Monica Allread, a spokeswoman for the district, told 3TV News.