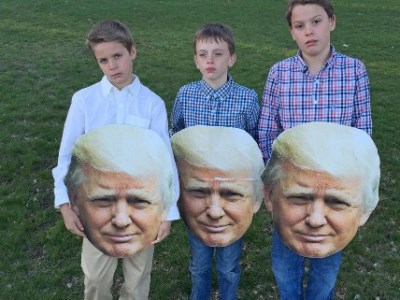 A US school has been forced to cancel a satirical talent show performance involving students dancing while wearing Donald Trump masks.
The Fiske Elementary School, located in the state of Massachusetts, drew the curtains on its talent show before it had even begun after receiving an email from an angry parent, who saw the wordless skit as a way to mock the presumptive Republican nominee.
The three 11-year-old students, Christian Mattaliano, Marc Maggiacomo, and David Maggiacomo, wore large cardboard cut-outs of Trump's face and coordinated a dance to techno music.
"Please grow up and realize that there are many different views and that a talent show ridiculing someone is first not a talent show and would have never been tolerated if it was of Obama," one parent wrote.
"Maybe next year my kids will dance with a hijab on. My husband is voting for Trump. You should be so lucky to be married to someone as wonderfully Republican as him."
The act was meant to see two performances – one in the morning for students and staff, and another in the evening which parents could attend – but was cut short just hours before the second rendition.
In April, the boys' mothers told
The Boston Globe
they didn't have details about the complaint, but found it surprising that someone saw a skit performed by fifth graders as offensive political commentary.
The email writer, who addressed her complaint to Fiske Elementary School principal, Rachel McGregor, and a teacher named Elizabeth Floyd, called the two "pathetic individuals" and said she hopes Trump wins "and all teachers like yourselves get fired."